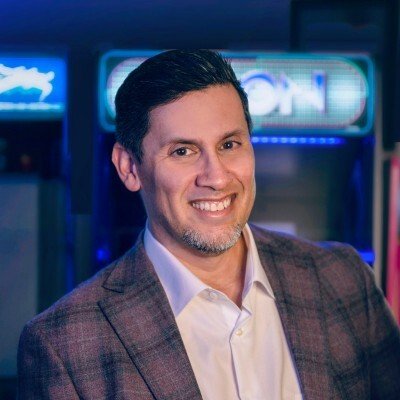 Before his appearance at SBC Summit Barcelona, Anthony Gaud, CEO at Gaudhammer Gaming Group (G3), spoke with CasinoBeats about the unlocked potential that esports offers to the igaming industry.
In the second part of the interview, Gaud, who also acts as Chair of the Regulated Esports and Videogames Committee, detailed the efforts needed across industry regulation to see esports' marriage with casino gaming thrive, while expressing a very personal love of Barcelona.
CasinoBeats: What potential do you think esports can bring to multiplayer slots and to the growing social aspect of modern casino Games?
Anthony Gaud: The marriage of esports and video games with online casino gaming, especially multiplayer slots, has huge potential. Competitive gaming has shown that it can attract huge audiences and generate massive revenue, which should also prove to be the case for multiplayer slots. Players competing against one another in real-time will give online gambling a whole new dimension.
The social aspect of modern casino games could also be greatly enhanced by the inclusion of video games which often foster strong communities of players and fans who engage with one another through live-streaming events, social media, and online platforms.
The integration of social media, esports and casino gaming will attract a younger, tech-savvy audience familiar with competitive gaming. This will drive the next phase of expansion in the online casino industry and ensure its continued growth in the digital age.
However, it's critical to note that this requires the development of modernised, regulated platforms to host these games, ensuring fair play, responsible gambling and strict adherence to gambling laws. This is something our company is uniquely positioned to do.
While the potential is significant, the powerful fusion of video games and casino gaming should be approached with caution to ensure responsible gaming practices are maintained and that any potential negative impacts, such as increased problem gambling, are mitigated.
CB: Slot streaming has taken the industry by storm in recent years. In what way do you think esports can mirror the popularity of streaming, and is there the possibility of slot streaming and Esports working hand in hand?
AG: There's a lot to consider here. Esports and video game wagering and streaming have the potential to intersect beneficially, so yes, they will definitely work hand-in-hand.
It's easy to see that there's a huge audience interested in gaming content based on the popularity of streaming platforms like Twitch, which has had 7.4 billion streams so far in 2023, with video game and esports-related content contributing to the majority of this figure.
This audience also intersects with the demographic that enjoys online wagering, making the integration of esports and slot streaming a promising venture. GaudHammer is well aware of this potential and has been actively exploring ways to use streaming for our upcoming gaming platform. In fact, we've partnered with several leading companies in the field to integrate streamers and content creators into our platform. We're highly excited about the prospects and look forward to sharing more details soon.
It's important to note that while we believe in the potential of this integration, we're equally committed to ensuring it's done right. There's a troubling trend of underage audiences getting access to gaming and wagering content, which we strongly condemn.
It's our firm belief that regulations need to be put in place to prevent this, and we are dedicated to doing our part to ensure our platforms are safe, responsible, and age-appropriate. We're committed to leading the charge in this area, ensuring that our innovations in esports and slot streaming are as ethical as they are exciting.
CB: It won't be too long until G3 is celebrating half a decade of operations. How would you say the company's evolution has coincided with the growth of esports within the gambling world?
AG: Jim Hammerstedt and I started G3 as a follow-up to a private-public partnership with Atlantic City to attract younger visitors through esports. Prior to the COVID-19 pandemic, we organised three events that were successful in bringing audiences 25-and-under to the resort. We got approached by a regulatory body about setting up a gambling video game platform after the pandemic hit. As a result, the company's trajectory and focus completely changed.
Our expertise in video game and platform development helped us create an innovative and disruptive product, but one that posed significant challenges as a first-mover. To accomplish this, we assembled a team of highly skilled developers from leading AAA video game platforms, including those who closely contributed to the development of Microsoft's Xbox One platform.
While we considered ourselves experts in game development, we recognised the need for collaboration to understand the regulated wagering industry. For example, companies such as 'Odds on Compliance' helped us navigate multi-state online compliance effectively.
Our partnership with LexisNexis enabled us to integrate state-of-the-art biometric KYC and user authentication, ensuring maximum security and player safety. With the help of 'Comtrade', we also integrated top-notch player account management.
We undertook this considerable challenge because we firmly believe that video game and esports gambling are huge opportunities. We're committed to staying at the forefront of innovation to lead the way. Lastly, we partnered with The Arena Group to create Esports Illustrated, the first mass media publication devoted to esports and competitive video games.
Despite the fact that we just launched the portal in mid-April, we have already had over two million visitors to the site and have the backing of almost the entirety of esports game publishers, demonstrating the popularity of esports and the enthusiasm of the ecosystem to what we're doing.
CB: As the Founder and Chair of the Regulated Esports and Video Games Committee, what standards do you think need to be prioritised to ensure player safety across these sectors?
AG: When we established the Regulated Esports and Video Games Committee, our primary objective was to educate regulators, legislators, and compliance organisations about the workings of regulated video games. We have achieved remarkable success in fulfilling that mission, and we are now preparing to expand into an independent organisation that will directly contribute to the development and certification of industry standards.
While I am excited to share some significant announcements in the near future, I am not at liberty to disclose them at this time. I hope to make our initial announcement during the SBC Barcelona event, which would serve as an ideal platform for such an occasion.
CB: Finally, with a trip to SBC Summit Barcelona around the corner, what are you looking forward to most about the event?
AG: There are a lot of things I'm looking forward to at the upcoming SBC Summit. Barcelona holds a special place in my heart because, besides being a city that my family and I adore, my wife and I renewed our wedding vows here in 2012 after visiting several times. Spanish is my family's heritage, and we are planning to retire here, so this city is extra special.
I'm most excited about the SBC Summit because I'll be able to talk about my greatest passion – video games. The fact that SBC takes esports and video gaming seriously is a testament to their forward-thinking approach.
This is a rare opportunity to broaden both the video gaming and igaming industries, to introduce innovative and exhilarating products, and to introduce a new vertical that I believe will be the most impactful yet. I'm thrilled that GaudHammer will play a part of this history in the making.
I echo Humphrey Bogart's character Rick Blaine in Casablanca when talking about the merging fields of gaming and gambling, "This is the beginning of a beautiful friendship".
This month, the CasinoBeats 100 Club will be exploring the world of multiplayer slot titles and has tasked the industry with the following question: Why haven't multiplayer slots made larger inroads into the online casino space? What challenges do they face and what growth opportunities do they create?
To join the 100 Club and offer your insights into this topic, sign-up here.