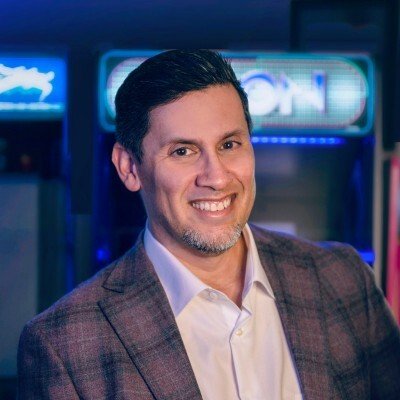 Marrying esports and igaming is a challenge that, if tackled, could revolutionise the gambling industry and carry it into the modern age of entertainment.
This was the sentiment echoed by Anthony Gaud, CEO of GaudHammer Gaming Group (G3), who outlined the company's passion for integrating esports, and other engaging features derived from video games, into the gambling world.
After it was announced that Gaud is set to speak on the 'multiplayer slots – taking influence from esports' panel at SBC Summit Barcelona, the Emmy-winning CEO, and also Chair of the Regulated Esports and Videogames Committee, stressed the importance of recognising esports at igaming events, while explaining that multiplayer slots are "far from reaching their potential".
CasinoBeats: Now that summer is underway, the SBC Summit Barcelona is slowly approaching. Can you explain the importance of esports' representation at igaming events such as this one?
Anthony Gaud: Due to esports' rapid growth, SBC Summit Barcelona presents a great opportunity to showcase its potential. Without a doubt, competitive video games are poised to become the next major phenomenon in the world of wagering. We're on the brink of a new industry, the merger of gambling with video games, the world's biggest entertainment industry. The convergence promises to bring igaming unprecedented engagement, dynamism, and innovation.
The GaudHammer Gaming Group (G3) is honoured to play a key role in launching this exciting new industry. This remarkable shift in video gaming and wagering is something we're both witnessing and contributing to.
The inclusion and recognition of esports in prestigious events like SBC Summit Barcelona holds immense importance. This summit will pave the way for the future of esports in gambling, and I'm excited for the discussions and advancements that will result.
CB: With an extensive background including roles in media development, gaming and television, in what ways has your experience in these sectors carried over to the igaming industry?
AG: Hopefully my experience in intellectual property, video games, and television will help videogames transition into igaming.
As with traditional entertainment media formats, wagering has inherent entertainment value, and it's fortunate that's what my media experience brings to the table. In the past, gambling was mostly limited to classic games like poker, blackjack, and roulette. They're timeless games, but they're just a fraction of what's possible.
Sports betting has significantly increased excitement and the entertainment factor for bettors since they can follow and interact with live sporting events. This shows the potential for diversifying wagering experiences.
I think this is where esports fits into the betting world so well because it isn't just about watching other people play video games; it's about actively participating in a global community of gamers. From puzzles and fantasy to action and sports, each video game offers unique storylines, themes, and gameplay. Video games bring a whole new level of engagement and excitement to the gambling industry.
Based on my engagement with several concepts and prototypes in development, I believe we're on the verge of a major change in gambling. We've only just begun to imagine how entertainment and wagering will converge in the future. It's an exciting time for the igaming industry, and I'm lucky to be a part of it.
CB: At the Summit, you will be appearing on a slots and esports-themed panel. How would you explain the current relationship between these two sectors? Do you think there's room for more collaboration?
AG: Esports-enhanced slots are currently in the initial phase of evolution and experimentation. The two mediums will integrate in exciting ways with innovative ideas that will bring new life to casino gaming.
For several years now, GaudHammer has been working on prototypes that combine traditional slot machines with interactive, immersive video game elements. User tests show that these innovations are particularly effective at attracting and retaining younger demographics, lowering churn rates.
With the newly introduced 'Slot Plus' category, our company is looking forward to reimagining what slot machines can be. They're not just standalone games anymore, they're multiplayer video game experiences that combine elements of slot machines and wildly popular video games like Candy Crush, Tetris, and Clash of Clans. Slots, esports, and video games will all benefit from deep integration.
Bringing these worlds together improves the igaming experience and opens up new avenues for growth and innovation in video games as well.
CB: While multiplayer slots are beginning to branch into online casino lobbies, there is still a lack of suppliers with a multiplayer focus. Do you think multiplayer slots are being utilised enough in the igaming space?
AG: The utilisation of multiplayer slots in the igaming space is currently far from reaching its potential. The development of these innovative products necessitates a fresh perspective on gameplay, something that most traditional slot developers are yet to gain.
Simultaneously, game developers with experience in multiplayer dynamics lack a deep understanding of the intricacies of slot machines. When we initially ventured into this realm, we held the misconception that slot products were relatively simple games to develop. However, the reality proved to be quite the opposite. Slot machines are complex systems with their own set of challenges. Their bonusing and reward systems are practically sciences in their own right, requiring a nuanced understanding of player psychology.
In parallel, understanding player interactions in a multiplayer environment is a complex task, as well. Factors such as player motivations, engagement methodology, and the dynamics of group play all need to be considered and optimised for a compelling multiplayer slot experience. As of now, very few companies, if any, have successfully married these two aspects in a publicly released game.
Despite these challenges, I firmly believe that multiplayer slots will emerge as a significant category in the igaming space. People inherently enjoy having fun and interacting with others, and this is particularly true for the younger demographics we aim to engage with. As such, the development and refinement of multiplayer slots present a significant opportunity for growth and innovation in the industry.
This month, the CasinoBeats 100 Club will be exploring the world of multiplayer slot titles and has tasked the industry with the following question: Why haven't multiplayer slots made larger inroads into the online casino space? What challenges do they face and what growth opportunities do they create?
To join the 100 Club and offer your insights into this topic, sign-up here.