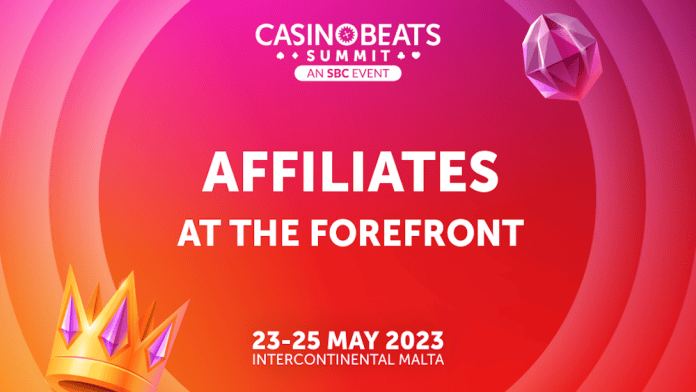 At the eagerly-awaited fifth edition of the CasinoBeats Summit, the specifically-curated 'Affiliation' track will provide attending affiliates with an exceptional educational opportunity by enhancing their understanding of the operations and best practices in affiliate marketing.
Taking place on 25 May at the InterContinental Hotel in Malta, the track will feature some of the savviest minds in the industry, who will explore topics such as better data adoption for affiliates, platform strategies for casino streamers, and how affiliates can ensure that their opinions are heard and their interests are considered when communicating with business partners.
In addition, attendees will have a unique chance to participate in three in-depth SEO sessions, hosted by ComeOn Group's SEO Director, Ivana Flynn. These sessions will delve into technical aspects, new markets and marketing strategies, while enabling affiliates to shape the panel discourse by anonymously posing their most pressing questions online.
The panel titled "Affiliate Voice – What Do Affiliates Really Want?" will feature industry affiliate leaders, explore the relationship between operators and affiliates and reflect on how transparency of data and new negotiation styles can improve their interactions.
The esteemed panel will include Sam (Shmulik) Segal (Co-Founder & CEO, MediaTroopers), Fintan Costello (Managing Director, BonusFinder.com) and Tejinder Kumar (CCO, Finixio). The discussion will be moderated by Rafael Costa (Affiliate Manager, NOK Services).
The "Mitigating the Impact of Ad Fraud in Affiliation" panel will explore the impact of ad fraud on both operators and consumers, and how the industry can work to mitigate the effects of these bad actors.
This expert panel will feature Johan Styren (CEO, Dilanti Media), Dariia (CPO, MegaPartners), and Vadim Aidlin (CEO, Mamuta Media). These industry leaders will share their experiences and insights on how to tackle the rise of bots targeting bonus offers on affiliate sites, which saw a dramatic increase during the pandemic.
Rounding up the second conference day for the affiliate track will be the SEO Trilogy series, allowing attendees to gain crucial insights into technical SEO, effective strategies for building SEO in new and saturated markets as well as the crucial role SEO plays within the marketing funnel.
Ivana Flynn will host the series, which will feature experts such as Lasha Kiladze (SEO Consultant & Co-Founder, LK Gambling), Maja Jovancevic (Head of SEO, GIG), Edoardo Ganetti (SEO Director at Gambling.com), Maria Sayapina (Head of Performance, Game Lounge) and Eitan Gorodetsky (CMO, Kitcode) among others.
Aksel Heitman Olsen (CTO, Acroud), will moderate the first session, while Flynn will moderate the second and third sessions. With a unique opportunity to ask questions anonymously, participants can directly influence the discussion on stage and address their most pressing pain points and concerns.

Apart from the above topics, the track will feature a range of dynamic panels, including an exclusive presentation from SlotCatalog, the leading affiliate site with the largest database of casino games, as well as insights into casino streaming trends and player demographics. Participants can also explore how to leverage new technology for better data management and to stay ahead of the curve in this rapidly-evolving industry.
The 'Affiliation' track is just one part of the action-packed CasinoBeats Summit, which boasts an impressive line-up of expert-led panels across four additional conference tracks.
With three stages running simultaneously each day, attendees will have abundant opportunities to explore diverse subjects, including Leadership, Casino Slots, Casino Product, and Global Casino.
---
CasinoBeats Summit is an annual conference and exhibition that brings together top industry executives, creatives and tech masterminds to discuss everything casino. The fifth edition of the event will take place on 23-25 May at the InterContinental Hotel in Malta and is expected to attract 3,000 attendees, including 1,200+ operator representatives and  200+ affiliate representatives.

In addition to informative content, the summit will feature a trade show with new game releases and product launches, as well as opportunities to network with industry professionals during the evening networking parties.

You can get a discounted ticket for the 2023 CasinoBeats Summit by purchasing a Super Early Bird pass for €295+VAT (regular price is €545 + VAT) before the offer expires on 24 February.

For more information on exhibition and sponsorship opportunities, contact [email protected].