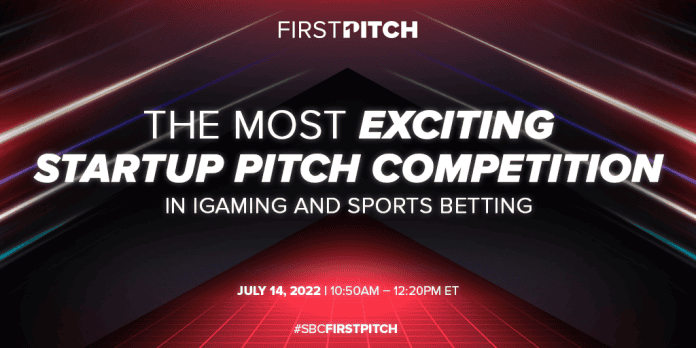 SBC is once again inviting industry start-ups to pitch their business ideas in front of leading investors during next month's North America Summit, which takes place at Meadowlands Exposition Center, New Jersey, July 12-14. 
Last year's First Pitch competition saw two joint winners. The judges could not decide between The Parleh Media Group, a Canadian digital media specialist, and SharpRank, a Maryland-based independent sports betting ratings agency, as both were deemed to have delivered equally impressive performance.
Following this success, the SBC First Pitch will continue providing US-based start-ups operating in the sports betting and online casino gaming industry with a platform to showcase their innovative products. The competition will be part of the event's Capital & Growth track on July 14, 2022, the final day of the leading sports betting and igaming event in North America.
Five start-ups will be chosen to present their business plans to venture capital investment experts within the sports betting and igaming space. The judging panel that will decide the finalists and winner of the contest comprises Edward Kind (Co-Founding Partner and Co-CIO, Acies Investments), David Williams (Principal, Las Vegas Sands), Matt Davey (CEO, Tekkorp Capital LLC), Kathleen Coviello (Chief Economic Transformation Officer, NJEDA), and Anika Howard (President and CEO, WONDR NATION).
The SBC First Pitch winner will qualify for a prize package of services valued at $60,000 to help its development and growth plans. The package includes:
– A $25,000 investment from HappyHour.io, a seed and early-stage accelerator for igaming.
– One year of sports betting subscription worth $20,000 from Eilers & Krejcik Gaming, a research and consulting firm servicing the gaming equipment, interactive gaming, and sports betting sectors.
– A promotional package from SBC Media worth $12,200, including six months of advertising on SBC Americas and the SBC Americas Newsletter, and a unique editorial promoting the business.
– An exclusive brand or web design package worth $2,800 from Vegas Kings.
Sue Schneider, VP of Growth and Strategy at SBC, said: "Given the massive success of last year's competition, we decided to bring it back and allow more innovative startups to compete for a prize that can help them take their business to the next level."

"We want to encourage all startups operating in the sports betting and online casino gaming industry to embrace their innovative ideas and be creative. SBC has partnered up with various industry stakeholders and put together an amazing prize package that will assist them during their first steps in this highly competitive industry," Schneider added.

How can startups enter the SBC First Pitch North America competition? Companies must fulfil the following eligibility criteria to enter:
Founded no earlier than 2019.
Focused on sports betting or online casino gaming.
Raised no more than $5m of outside financing.
Send at least one representative to present at the competition.
SBC will stop accepting applications on Thursday, June 23, at midnight ET. To apply, go to www.sbcevents.com/first-pitch.