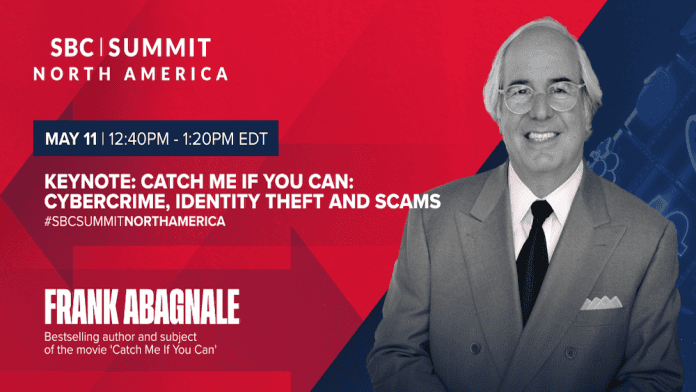 Frank Abagnale, world-renowned cybersecurity expert and fraud prevention specialist, will emphasize the importance of safeguarding players in an ever-increasing fraudulent landscape, while revealing how simple strategies can thwart today's cyber criminals in his keynote speech at SBC Summit North America.

Abagnale, the best-selling author and the inspiration behind Steven Spielberg's "Catch Me If You Can", will reflect on his experiences to educate attendees on how identity thieves work and why passwords alone won't keep the players safe.
His "Catch Me If You Can: Cybercrime, Identity Theft and Scams" keynote containing an array of vivid examples and practical takeaways will be a key feature of the 'Converging Worlds" conference track on Thursday 11th May, at the leading igaming & Sports Betting event in North America, taking place at Meadowlands Exposition Center, New Jersey.

While many may recognize Abagnale as the subject of the Oscar-nominated film, it is his contributions to the cybersecurity and anti-fraud sector that make him an ideal keynote speaker on this subject.
Abagnale's fraud prevention programs have been adopted by over 14,000 financial institutions, corporations, and law enforcement agencies over the last four decades.
He has also served as an associate of the FBI and was a former member of the National Advocacy Center. Alongside these achievements, Abagnale is a well-known author with multiple best-selling books to his credit, including The Art of the Steal, The Real U Guide to Identity Theft, Stealing Your Life and his most recent book, Scam Me If You Can – Simple Strategies to Outsmart Today's Rip-off Artists.

More recently, Abagnale has turned his attention to the rise in emerging anti-fraud and cybersecurity technology. He spent 10 years as an advisor to the 41st Parameter, a company that developed fraud detection that is used in over 80 countries.

Today, Abagnale works as an advisor to cyber security company Trusona, which offers a passkey-as-a-service platform to help businesses add passkeys to their websites.
Trusona will be exhibiting at SBC Summit North America to introduce Trusona Authentication Cloud, showing how it improves long-term customer value with faster, phishing-resistant sign-ups and sign-ins using a tap-and-go experience..

Rasmus Sojmark, Founder and CEO of SBC, commented: "Frank has a phenomenal wealth of knowledge around the subject of cybersecurity, fraud and identity theft that transcends any industry.
"What makes his keynote especially memorable is that it will be equally informative and entertaining with his fascinating anecdotes. I mean we have all seen 'Catch me if you can' right?"

"With methods of forgery, embezzlement and cybercrime becoming increasingly more advanced, the need for accessible and innovative cybersecurity tactics has never been more crucial. I have consulted on almost every major breach in the US over the last 40 years and it's incredible how many were down to stolen data or weak passwords.
"Over the years technology has evolved at such a remarkable pace, yet cyber security has stagnated," said Abagnale. "I look forward to sharing actionable tips based on my own experience that can help businesses avoid common downfalls."
To listen to Abagnale and keynotes from the likes of Matt King (CEO, Fanatics Betting and Gaming), Barry Gibson (Chairman, Entertain), Bill Miller (President & CEO, American Gaming Association) and a host of coveted panelists, purchase your tickets on the official website.