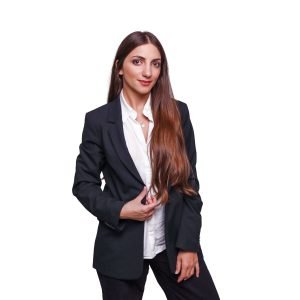 Ruzanna Elchyan, Head of Gaming at BetConstruct, puts the B.F.T.H. Arena Best FTN Game Awards under the spotlight as she explains how the event is encouraging new levels of innovation across the industry.
Elchyan walks us through the thought process when creating the B.F.T.H. Arena Best FTN Game Awards before giving us a sneak peek into what studios can expect from BetConstruct in the coming months.
SlotBeats: How and who came up with the idea of creating B.F.T.H. Arena Best FTN Game Awards?
RE: We at SoftConstruct love to explore different areas in the iGaming sector and beyond. We believe in the power of in-house production and encourage innovations that lead to better internal growth.
Likewise, SoftConstruct is a home for different businesses, including Fast Bank, Fast Media, Fastex ecosystem, and much more. Fast Media, for example, has recently launched its own OTT platform, where users can not only watch the matches of their favourite teams but also find renowned movies and shows.
The Fastex ecosystem is built on a Bahamut blockchain, and it's a complete Web3 platform for seamless and safe crypto transactions, NFT market, and native token – FTN.
BetConstruct, on the other hand, is an integral part of SoftConstruct covering all things iGaming. Being in the market for more than 20 years, we've come to a point where we want to give back to the community that has helped us become one of today's leading providers. This is when B.F.T.H. Arena Best FTN Game Awards came into play. 
The Awards are created for people who love the game just as much as we do. It's crafted to encourage industry talents and celebrate their contributions while giving players a bunch of new popular game variations with unique themes, cutting-edge designs and innovative solutions.
SlotBeats: The idea sounds really unique and fresh. Can you tell us more about the Awards' main nominations, requirements, submission process and prize distribution?
RE: There are four main nominations for B.F.T.H. Arena Best FTN Game Awards – Best Bahamut Games, Best DECA Games, Best Online Casino Games and Best Game Design. The last two seem pretty self-explanatory, but the first two nominations require implementations of crypto technologies for the submitted games to be eligible for the win. We believe this is a perfect opportunity to shape the crypto future and make it more accessible to users.
Another major requirement for the Awards is to integrate one or more following brand motifs in the games – Mr First, AKN Eye, FTN, and Bahamut. Besides those two conditions, the participants are given full creative freedom. The prize pool of the Awards is 3,333,000 FTN, which will be applied to promote all the winning games with Free Spins, Tournaments, Jackpots, Wonder Wheel, Loyalty Program and much more.
Additionally, we've created a Fastoken Drive Package, which will include all the participating games in it. This package can be activated via API and will be available to all operators worldwide, both online and land-based. The submission process is open till November 30th. The Fasttoken Drive Package will be available starting from December 1, 2023, but pre-registration is already open for everyone interested.
SlotBeats: Have you received any feedback from your peers? How can game-developer studios who take an interest in the Awards deliver the games?
RE: The B.F.T.H. Arena Best FTN Game Awards have already gotten massive responses from industry representatives. More than 50 game developer studios have shown interest in it. We are going to introduce unique branded content by industry-leading providers, such as the Gates of FTN, Crazy Time: FTN Edition, Mr. First's Crown, Fast Master.
Soon, all players can enjoy bespoke games and new titles created in the framework of our Awards. Operators can add these games to their catalogue by contacting BetConstruct Sales team or getting them directly from the game creator.
SlotBeats: What makes B.F.T.H. Arena distinctive from other similar awards?
RE: One of the most distinguishing characteristics of B.F.T.H. Arena is the impact it leaves on all types of markets and specialists. For example, we've recently announced collaboration opportunities for all influencers and streamers who can promote the participating games in the framework of Fasttoken Drive and get a revenue share from it. Similarly, many new talents can submit to the Awards to gain new partnerships and make themselves known among industry leaders.
Slotbeats: How are B.F.T.H. Arena Winners Decided?
RE: The winners will be chosen by the votes of third-party judges and players. The submission date ends on November 30th and the winners will be announced during the Harmony Event on December 13th in Armenia. Additionally, everyone interested in the Awards can check BetConstruct's 5Talk episodes on YouTube to find more ongoing updates.
Slotbeats: Is there something you'd like to add at last?
RE: I guess we've covered all the necessary information. I would like to add that the current period that we are witnessing is one of the most fun for the iGaming industry. It is so dynamic and interchangeable that you just can't stand in the corner.

There is still time for everyone to submit their games and be part of creating unique amazing games and great partnerships.
B.F.T.H. Arena Best FTN Game Awards is a unique experience, encouraging and celebrating all the best within the iGaming industry. BetConstruct promises that there is more to anticipate in the upcoming months.