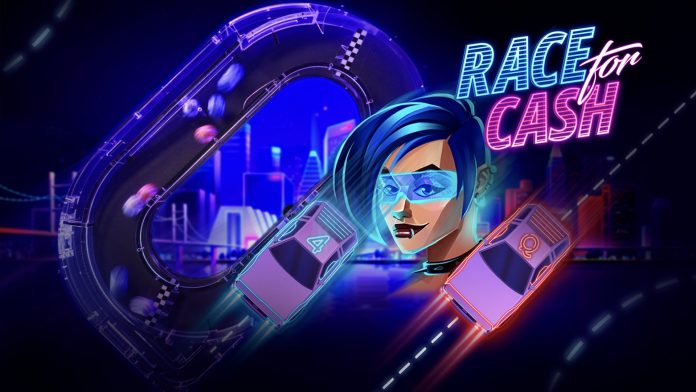 Quik Gaming has released its brand new live and single player game for players with a need for speed with its new title, Race for Cash.
Set in New York State in the year of 2095, the title features a blend of live, slot and sports bet approaches and uses a racetrack-shaped draw machine for the live mode.
In the game, players bet on which of the 10 drivers will cross the finish line first, then watch them go full-throttle on the highway as they collect guaranteed multipliers in every round. Moreover, Quik Gaming's Tournament side bet sees drivers rival it out to collect the x1,000 multiplier to be crowned victorious of the Championship.
"We aim to provide as much entertainment to players as possible and Race for Cash is in pole position to do just that," remarked Jade Pecorella, head of games at Quik Gaming. "This is a one-of-a-kind game experience, offering players a huge variety – from the circuit track machine, to three unique gameplay into one exciting game.
"There are guaranteed multipliers every round in the base game and a multi-round tournament bet with a multiplier of up to x1,000 your bet.
"We've created a unique mash-up of a familiar pachinko pinball bonus game, with 10 engaging racers that come with unique powers to influence the game, like big paying multipliers."
Players can shift gears to accelerate towards the Pachinko Street Race Bonus game by betting on which drivers will be the top and last two. Here, players watch as the 10 drivers use their unique power ups as they zip under and over bridges collecting multipliers, dodging obstacles, and stomping the gas pedal towards the super multipliers scattered along the finish line.
Racers in the game range from Nitroman, who has the power to summon an additional racer into the bonus game, to the femme-fatale Lady Velocity, who gets players started with a x10 multiplier, or the devil-may-care Road Rocket, putting his pedal to the metal for a x20 multiplier, and Road Vader, accelerating towards bumper multipliers and increasing them tenfold.
Pecorella concluded: "We aim to create games for all players, and with the single player and live games, we bring the land based experience of an exciting, familiar, slot-inspired bonus game to the live experience of casinos.
"The single player version is an easy introduction to our game, as it helps players understand how it works, and by clicking just one button, the player is transported seamlessly from the single player mode through an in-game portal to the live version of the game, with both versions having the same rules and easy-to-use user interface."