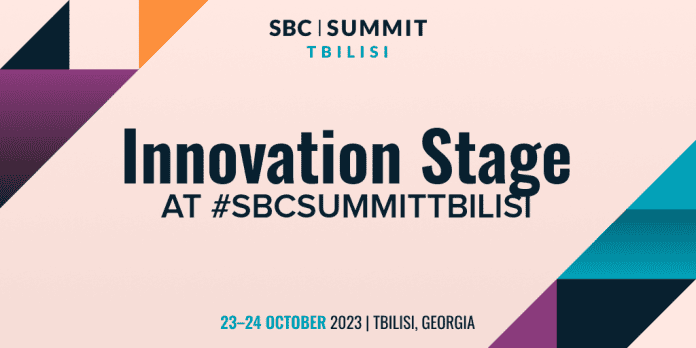 In its debut edition, SBC Summit Tbilisi invites 1,000 delegates to dive into the trends and solutions fuelling progress in the industry, spotlighted on the dedicated innovation stage track.

The premier igaming and sports betting conference for Georgia and surrounding regions, such as Eastern Europe, Central Asia and the Balkans, will be held at the Sheraton Grand Tbilisi Metechi Palace between October 23-24. The event is organised in partnership with SMH, a Georgia-based sports management company.
Running throughout the core day of the event, the dedicated track will maintain a stringent focus on industry innovation and serve as the ideal platform for attendees eager to explore innovative technologies and strategies to bolster their regional operations.
Rasmus Sojmark, CEO and Founder of SBC said: "Our objective for the innovation stage extends beyond the common misconception that innovation is solely focused on technology and services.
"Within the conference track, attendees will be introduced to fresh approaches, groundbreaking ideas, experimental endeavours and experiences, all designed to elevate the industry's operations, profitability, and customer protection."
The 'Untapped Potential in Street Sports" fireside chat will feature Raimonds Elbakjans(Founder, Ghetto Games), who will share his thoughts on street sports and the development of street sport tournaments, whilst also shedding light on the opportunities that this underutilised field can offer to industry operators.
A tech-orientated 'AI Superpowers: Revolutionising iGaming Operations' panel will examine artificial intelligence's revolutionary impact on the industry in recent years whilst looking ahead to the untold opportunities it can unlock for the industry.
Additionally, delegates can anticipate discussions on a wide range of topics including effective strategies for optimising user conversion and long-term retention rates and revolutionary payment solutions within the industry, among other subjects.
'Player Centricity: Crafting Exception iGaming Experiences for Customer Loyalty' will examine the importance of user retention in gaining a foothold in the market.
David Gujabidze (Former Deputy CEO, TotoGaming), Tamar Kodalashvili (Head of Digital Marketing, Leaderbet), Revaz Chikvaidze (Former Head of Crypto, VBet) alongside panel moderator Kasparis Momdjian (Senior Project Manager, Hybrid Interaction) will look at how customer-centricity and personalisation can help establish user loyalty and discuss the formula for balancing regional advertising with brand identity.
Elsewhere, 'Performance Marketing and Affiliation Unlocked' will delve into the latest trends and effective strategies for driving and converting traffic. Experts
Garabet Nokhoudian (Chief Strategic Marketing Officer, Vbet), Zurab Magalashvili (Marketing Director, Adjarabet), Giorgi Nadaraia (CMO, Betlive) and panel moderator Vakho Mdivani (Co-Founder & CPO, Promofy) will delve into the transformative technologies driving market expansion, explore the pivotal role of regulations in shaping brand development and the partnership affiliates and operators can forge to facilitate mutual success.
Tereza Tokmajyan (CMO, TotoGaming), Dan Alexandru Ghita (Chairman, Rombet) and panel moderator Ivan Kurochkin (Partner, 4H) will explore the topic of 'Balancing Player Protection and Growth'.
During the discussion, they will share their unique perspectives and experiences navigating complex regulations, explore the future of player protection and share insights into how global inflation is influencing the industry.
A 'Esports Betting: A Game-Changer for the Region' discussion will delve into the urge of esports betting in recent years. Industry expert Max Sevostianov (COO, Betbazar) and panel moderator Sam Cooke (MD & Co-Founder, Esports Insider) will discuss whether esports betting can maintain its relevance and the optimal ways in which esports betting can cater to the preferences of the upcoming generation of bettors.
Additional experts providing unique and invaluable insights across the conference track include Lasha Gogiberidze (Partner CEO, Brave Rave), Gega Topuridze (CBDO, Betlive), Nika Gigashvili (Managing Director / Partner, SMH), with more still to be announced.
Alongside the conference agenda, delegates will have the opportunity to capitalise on a plethora of networking opportunities and witness the latest industry offerings on the exhibition floor with over 20 local and global brands exhibiting across the summit.
You can purchase your full event pass here, gaining access to the conference, exhibition floor and networking facilities for the discounted early bird price of US$150.
For exhibition and sponsorship opportunities please contact [email protected] or Baki Lortkipanidze at [email protected].