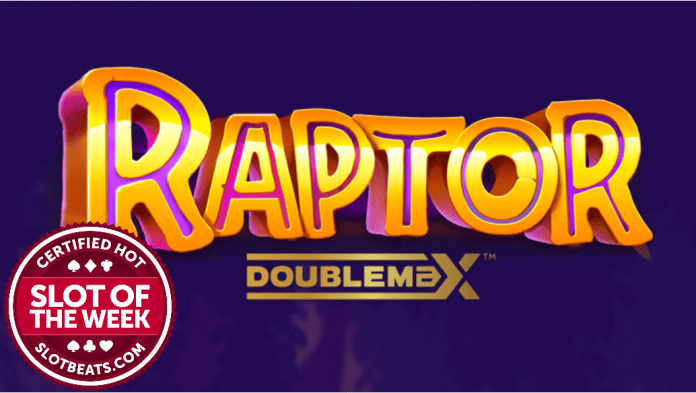 Yggdrasil takes players on a Jurassic adventure as it claims our Slot of the Week award with its roaring slot, Raptor Doublemax.
The five-reel slot is set in a world before humans, when great dinosaurs roam the earth competing to be top of the food chain.
With 25 ways to win, the game includes features such as free spins, a free spins gamble, cascading reels and a golden bet.
"Raptor Doublemax gives valiant fans a chance to demonstrate power and determination as they gamble for more in this enrapturing slot, with the constant chance to win huge prizes," said Stuart McCarthy, head of product and programs at Yggdrasil.
"With the dropdown feature of the game, wild symbols occur more often, as does the chance to secure more wins."
Featuring cascading reels, all winning symbols are removed after a win, allowing new symbols to fill the empty spaces to create even more chances to win. Moreover, an extra wild card is also added after every win with this dropdown feature. But the hunt of these bipedal beasts doesn't stop there. The game's Doubling Multiplier feature means that each consecutive win doubles the multiplier with no limit.
Furthermore, if players land three or more scatter symbols, they'll activate free spins, giving them the option to gamble before using the feature. Winning the gamble awards more free spins, however, losing demolishes all winnings, and the hunt continues.
Additionally, when the player enables the golden bet, it increases the stake by 25 per cent, whilst also doubling the chance to trigger free spin doubles where, with every consecutive win, the multiplier increases x2 with no limit.
In certain jurisdictions, free spins are also available to purchase throughout the game.
"Raptor offers a truly exciting and player centric mechanical experience, and I am confident that Raptor will resonate well with our partners, and their player communities," added McCarthy.
The title comes with an RTP of 96.01 per cent with a high volatility level implemented within the gameplay. Readers who would like to read more about Yggdrasil's Raptor Doublemax can click here to be redirected to the supplier's official website.