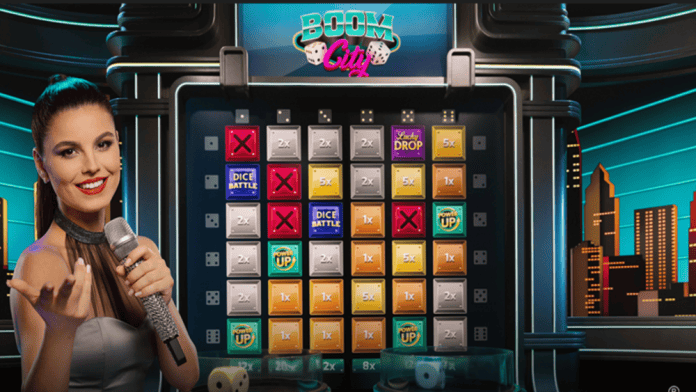 Boom City is the latest live casino title to be offered by content provider Pragmatic Play.
The game has a six-by-six grid with players placing bets across the 36 squares. Wins are awarded by the roll of two dice which can also grant bonus games and multiplier features.
Yossi Barzely, Chief Business Development Officer at Pragmatic Play, said:
"Boom City offers various bonuses, features and outcomes that will appeal to both Live Casino fans along with those that typically enjoy our wider offerings.
"Its highly entertaining gameplay provides players with decision-making opportunities that further increase engagement and also offers a huge max win of 20,000x, all played out in a custom-built set that combined create a unique, fun and easily consumed experience."
Throughout the game, instant cash prizes are displayed across the grid with bronze, silver and gold representing multipliers of x1, x2 and x5 respecitvely. If players land on a bust symbol then this will result in an instant loss.
Boom City includes a power-up feature, where squares are randomly multiplied to increase the win potential. Another bonus feature is the boom or bust challenge mode where players can advance through levels with incremental risks and rewards.
To increase player engagement, the title has three bonus features including level up, safe value and hyper jump. These features can increase the multipliers or aid in the progression of additional levels, with players making instrumental decisions to affect their game.
Another feature is battle dice squares, where players can choose between two battling dice before they both roll three times. If the player selected the dice that ammasses the highest value of the two, they will be awarded with the cumulative value of both the winning and losing dice.
Finally, a lucky drop feature is also included in the game. This bonus round sees six rolls of a dice with the player choosing one of six columns which are populated with increasing multipliers for each successive roll correlating to their chosen number.