Over the course of this year, BGaming has signed a number of partnerships with local artists to offer a fresh twist on its portfolio of slot game characters. For the upcoming iGB Live! Conference, the artist taking the spotlight is I AM EELCO.
Ahead of the Amsterdam-based conference, BGaming Game Design Team Lead Alex Baliukonis was joined by I AM EELCO to discuss their new collaboration and the role that game design plays in the overall player experience.
SlotBeats: Thanks for taking the time to chat with us Eelco! Can you begin by introducing yourself to our readers? How did you become involved in street art?
IAE: Hi, thanks for having me. I'm Eelco van den Berg, also known as I AM EELCO, and I'm a street artist, muralist and illustrator from the Netherlands. I started drawing as a little boy in the late 1980s and then found myself interested in graffiti painting. Graffiti and street art has had a huge influence on my work and I'm also a skateboarder, so artwork I remember from the late 80s when I was skateboarding has heavily influenced my work and shaped my artist style.
Nowadays, my work appears all over the world and I was especially proud to be voted one of the Top 10 street artists in New York. I've worked with brands such as Heineken, Jack Daniel's, Levi Strauss, and Philips, who have commissioned my work, and I'm also a guest lecturer at the Willem de Kooning Academie in Rotterdam.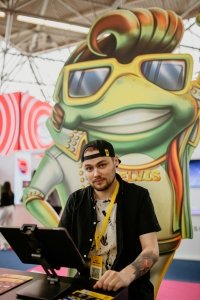 SlotBeats:  And Alex, can you walk us through the process of how you came to work with I AM EELCO? 
AB: Our work is an endless experiment! The story began in late 2022 when we were planning for iGB Live 2023 and decided to go beyond the possibilities in the iGaming industry. Our creative team was searching for inspiration for our events this year. The result was a series of collaborations with talented local artists aimed at supporting gifted individuals, exchanging ideas, and exploring new inspiration.
In London, we worked on a joint project with the well-known local artist Thumbs. For the exhibition in Amsterdam, we wanted something stylistically different, so we chose the renowned street artist muralist, Eelco van den Berg, who is ranked in the top 10 street artists in New York.
This was an extraordinary project for Eelco, as he had to create his own vision of our popular game characters. This marked the beginning of our partnership and the result has turned out to be amazing.
SlotBeats: I AM EELCO, Why did you choose to partner with BGaming? Is there something in particular about this brand that stood out to you?
IAE: I was intrigued when BGaming reached out to me and asked me to collaborate with them on art for their iGB Live stand. I'd never taken part in an experience like this before and I saw it as a fresh opportunity to explore new depths of my creativity.
Their games are loved by many, and I was eager to see how my own style would transform and adapt their top characters, especially taking them from the small screen to a large exhibition stand. The challenge of adapting their designs excited me and I knew it would be a project I wouldn't regret.
SlotBeats: Walk us through your creative process when reinterpreting some of BGaming's game characters – how do you add your 'own spin' to the artwork whilst also staying true to the BGaming brand?
IAE: The process typically starts with the basics – sketching. For many of the characters, I rely heavily on intuition – the less I overthink the creative process, the better the outcome.
The artwork will revolve around inspiring themes, sometimes guided by the flow of nature, even during the creation of sketches and final artwork. I am currently immersed in the work, and am feeling confident in the choices I'm making.
There will be tweaks along the way, but I can't wait to see how BGaming displays the final murals in Amsterdam later this month. It will also be great to hear the feedback from visitors to the stand and other exhibitors. I hope it will have a positive impact by inspiring creativity and encouraging others to embrace local artists going forward.
SlotBeats: Alex, what role does artwork and design play in the overall player experience? Can game design be a key tool when it comes to engaging with new player bases?
AB: There's a saying in slot development: 'The art is what attracts the players, but it is the maths that keeps them.' I understand firsthand that even an excellent mathematical model can suffer if the art fails to attract new customers. Our design team puts a lot of effort into creating captivating characters, paying attention to details, constantly experimenting with graphics, and implementing best practices to make our games visually appealing.
With years of experience in game development and access to extensive analytical data, we can leverage our knowledge and insights to determine which maths, mechanics, sound and graphics have the potential to become successful. These insights serve as the foundation for further design experiments.
In the iGaming industry, the player is king. Some players value variety, while others are drawn to specific maths, mechanics or design elements. Striking the right balance between fresh experiences, classic features and characters is crucial. Drawing inspiration from complementary industries, such as game development and the world of cryptocurrency, has worked well for us.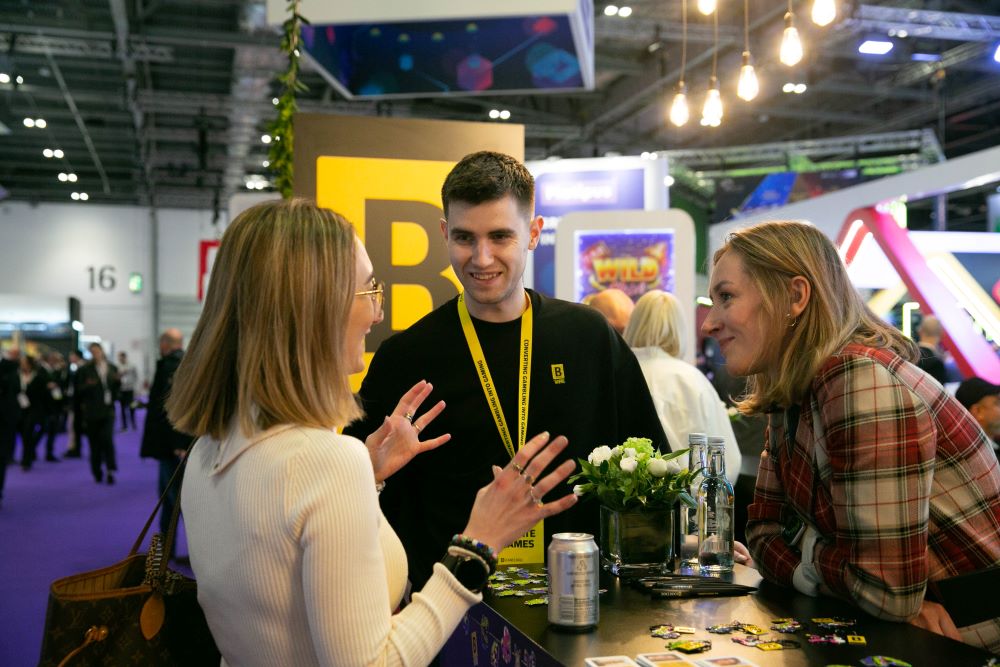 SlotBeats: Why has BGaming chosen to collaborate with local artists ahead of each industry conference in 2023? What influence has this had on the development of your game artwork?
AB: The industry we operate in demands experimentation. BGaming is often characterised as being a flexible provider open to collaborations and these projects allow us to see what we do from new perspectives. By providing a platform for local talents to experiment and exchange ideas, we move closer to fulfilling our mission of becoming the most social and player-driven provider. 
In London, we partnered with an artist inspired by pop-culture and it was fascinating to see his unique interpretation of our most popular game characters. In Amsterdam, our collaboration with Eelco, a muralist with a different artistic approach, allowed for an exceptional scale of creative expression.
Our entire team enjoys witnessing these experiments because they not only inspire us but also bring together representatives from different industries in a joint creative process. They undoubtedly influence our ability to deliver something new and surprising.
SlotBeats: What can we expect to see on the BGaming stand at iGB Live 2023?
AB: The outcome of our collaboration with Eelco will be showcased in Amsterdam, where our booth will feature his artwork. Guests will have the opportunity to compare the original BGaming game characters with his artistic interpretation.
Additionally, as part of our tradition when partnering with this artist, we will release a limited collection of gifts for our guests. Alongside this exciting new style, our studio will bring its best products, including over 100 highly engaging games and the development of brand exclusives.