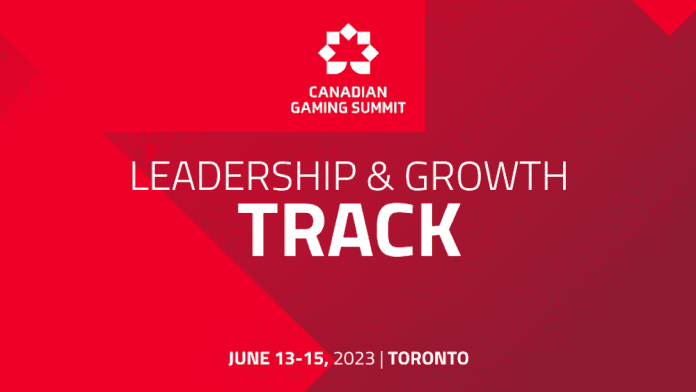 The fast approaching Canadian Gaming Summit, which promises an exciting line-up of events, will feature an exhibition floor, insightful panels and expert speakers to provide delegates with an valuable opportunity to delve into the essential pillars of prosperous business decision-making through a dedicated 'Leadership & Growth' track.
Taking place on the last day of the event (Thursday, 15 June) at the Metro Toronto Convention Centre, the track will provide delegates with a diverse collection of insightful discussions on topics such as Saskatchewan Indian Gaming Authority' unique business model and how socially responsible gaming practices can be utilised to drive growth.
Additionally, there will be a variety of exclusive roundtable discussions on regulatory and market developments, the intricacies of several Canadian provinces and the work of First Nations-led businesses and sports teams.
With a wealth of talent and ideas emerging in Canada, embodying strong leadership and innovative growth strategies, industry startups will get the opportunity to compete at the inaugural Canadian Gaming Summit 'First Pitch' competition, which shines a light on the best and brightest of the region.
Whittling the extensive list of applications down to just five, the finalists will present their product in front of a live audience and judging panel consisting of Benjie Cherniak(Principal, Avenue H Capital), Scott Secord, (Partner, Cardinal Sports Capital), Emily Mcllquham (Investment Analyst, Relay Ventures), Mohit Kansal (Managing Director, Clarivest) and Dani Lipkin (Managing Director Global Innovation, TMX Group)
A 'Responsible gaming as a foundation for growth' panel, will explore the importance of social responsibility in the Canadian gambling market. The industry-led panel will explore the benefits of incorporating social responsibilities and how player protection can drive growth through improved relationships with players and provincial regulators.

Nav Sandhawalia (Chief Compliance & Risk Officer, Niagara Casinos), Aaron GlynWilliams (Director, Social Responsibility, OLG), Shelley White (CEO, Responsible Gaming Council), Dan Spencer (Director of Safer Gambling, EPIC Risk Management) and Jacob Coin (Executive Advisor to Chairman, San Manuel Band of Mission Indians) will provide insights, with Martin Lycka (SVP American Regulatory Affairs and Responsible Gambling, Entain) on moderating duties.
Closing the agenda is 'social responsibility & ESG: Championing from within', which will highlight the necessity of meaningful ESG implementation as the gaming industry continues to grow. Canada is built upon its heterogeneous society and environmental values and therefore it is imperative for operators and regulators to encompass diversity, inclusion and sustainability to ensure survival and longevity.
Paul Pellizzari (VP Global Social Responsibility, Hard Rock), Catherine Meade (VP Community, Sustainability & Social Responsibility, OLG), Chuck Keeling (Executive Vice President, Stakeholder Engagement, Community and Social Responsibility, Great Canadian Gaming Corporation) and Anna Eleazer (Head of Diversity & Inclusion, BetMGM), with Russell Mifsud (Director & Gaming Lead, KPMG) moderating, will take charge.
Across the event, attendees will have the opportunity to partake in a diverse selection of other conference tracks around Payment & Compliance, iGaming, Sports betting as well as exclusive industry roundtables.
The event's highly-anticipated 26th edition will take place on June 13-15, featuring an exclusive pre-day limited-capacity event showcasing the Player Protection Symposium and Pre-registration party at the Urban Waterfall Garden in Toronto, followed by the two core event days held at the Metro Toronto Convention Center, Toronto.
You can purchase your ticket for the Canadian Gaming Summit by visiting the website.