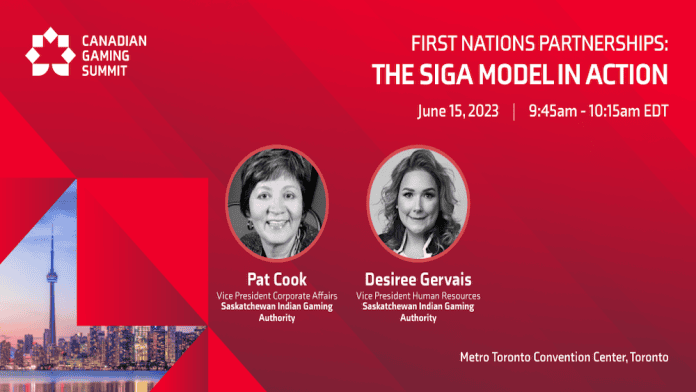 Patricia Cook, Vice President of Corporate Affairs, and Desiree Gervais, Vice President of Human Resources, of the Saskatchewan Indian Gaming Authority, will discuss SIGA's introduction to the digital gaming market and pioneering approach to regulatory agreements and revenue-sharing models, during an exclusive Keynote Fireside Chat at the 26th edition of the Canadian Gaming Summit.

The "First Nations partnerships: the SIGA model in action" keynote panel, will be an instrumental addition to the Leadership & Growth conference track, during the second core day, June 15, of Canada's premier gaming and betting event taking place at the Metro Toronto Convention Centre.

Officially established as a non profit organization in 1995, SIGA has flourished for over 25 years, establishing a casino empire that encompasses seven land-based casinos whilst implementing an innovative revenue sharing model which reinvests 100 per cent of net income back into the Saskatchewan community. In November 2022, SIGA launched with provincial partners, the first online gambling and sports betting website PlayNow.com for Saskatchewan. 
During the exclusive keynote session, Cook and Gervais will discuss the avenues taken that have established SIGA as such an influential force in Canada. During the talk, discussions will be centered around how SIGA was able to perfect the Gaming Framework Agreement to legally run the first digital gaming enterprise in the province.
Additionally, the keynote will cover the innovative financial model that has increased the company's growth, whilst simultaneously establishing SIGA as a highly respected pillar of the Saskatchewan community. Moreover, the panel will explore how these models can be implemented by other First Nations in their respective provinces.
With an illustrious and influential 20 year career in human resources, Desiree Gervais has an unparalleled wealth of experience and knowledge within the HR sector, having honed her expertise working with the First Nation government as well as highly regulated environments in the energy and mining sectors.
In February of 2022 Gervais took the role of Vice President of Human Resources at SIGA and has continued her conscientious and diligent approach to HR, helping expand the scope of the SIGA brand whilst continuously strengthening the relationship with the wider community.  
Patricia Cook has been Vice President, Corporate Affairs at SIGA for the past 18 years and has an active role in overseeing areas of communications, media relations, public relations as well as the SIGA's Corporate Social Responsibility Programs.
Cook's 19 years working for Prince Albert Grand Council prior to SIGA have equipped her with an experience and skill set that has helped establish SIGA as one of the most prominent brands in the Canadian space and continues to do so as they continue their journey into the digital realm.
With such an in-depth wealth of knowledge surrounding the Saskatchewan province, non profit organizations and the wider gaming industry, Gervais and Cook offer a unique and unparalleled insight to how to implement successful revenue sharing models that support local communities, whilst spurring company growth and adhering to regulatory frameworks.
With many looking to SIGA's model as the future of iGaming and sports betting in Canada, the keynote panel's thought provoking and trailblazing discussion will be essential viewing for the event.
Rasmus Sojmark, CEO & Founder of SBC, commented: "We are extremely excited to have the combined talents of Desiree Gervais and Patricia Cook at our keynote panel. It is important as an industry we constantly evolve and I hope to see a business model that prioritizes giving back to the community and dedicating resources to innovation and leadership, is one that will inspire other Canadian organizations.
Attendees will have the opportunity to partake in a plethora of panel discussions across the three day event, with dedicated conference tracks 'Land-Based', 'iGaming', 'Sports Betting', 'Affiliates & Advertising' amongst others.