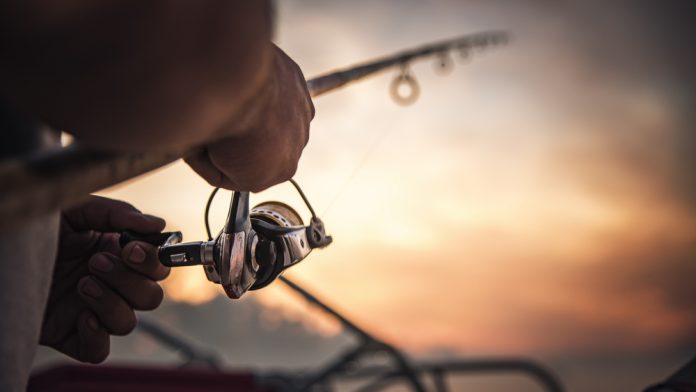 Within the slots community, Fishin' Frenzy is often regarded as "the original and best fishing-themed slot around" by players.
Ahead of the launch of Blueprint Gaming's latest adaptation of the industry renowned series, the supplier's Director of Key Accounts and Marketing UK, Jo Purvis, grabbed her rod and bait to join SlotBeats in casting out our lines to look into the history of Fishin' Frenzy, what inspired the company to adapt it for an online audience and take a glimpse into its future. 
SB: Fishin' Frenzy continues to be a success, may that be in its original form or its various conceptions. Why do you think this is?
JP: Within the slots community, Fishin' Frenzy is often regarded as the original and best fishing-themed slot around by players. Many variants of the genre now occupy online casino lobbies, but the fact that players still turn to Fishin' Frenzy for their gaming entertainment illustrates just how iconic and appealing the brand remains to this day.
The original, first developed by Reel Time Gaming for the retail environment, was of course a big hit and that is down to its simplicity and design. The colourful ocean hues and audio effects of spinning reels was quite the departure from other genres available at the time and it was a breath of fresh sea air for many.
Since Blueprint Gaming adapted the gameplay for the online and mobile market, the brand has progressed through various iterations. With every new release, we make sure to keep the essence of what players love about the original, as well as new features to explore in the deep blue sea.
SB: Fishin' Frenzy: The Big Catch Megaways is the latest instalment from Blueprint Gaming's iconic fishing themed game series. What makes this particular title so different to previous releases?
JP: We decided to combine two popular elements found in previous Fishin' Frenzy releases to deliver an elevated gaming experience for players. The legendary Megaways mechanic added a new dimension to the franchise when it was first introduced back in 2019, while The Big Catch version introduced a different take on free games with more ways to win big.
With Fishin' Frenzy: The Big Catch Megaways, players get the best of both features to reel in huge wins!
The game retains all the charm and cheer of all its previous instalments with the same colour scheme, transitions and sounds, as well as the return of the iconic fisherman. It's a fun blend of everything that has made the series such a hit up with re-tuned features that get the absolute most out of their combination and seamless fusion with each other.
SB: When you originally brought Fishin' Frenzy into the online environment, what was the original expectation?
JP: The original retail version was a huge success so we were confident our online adaptation would perform similarly. Its longevity, however, has been somewhat of a surprise, albeit a pleasant one, given the influx of so many other games into the market. It demonstrates how a quality, well-loved brand can capture the imagination of players well beyond its initial launch.
Our Fishin' Frenzy series has certainly earned its reputation as being a trusted game, with many online operators still utilising the original title for marketing purposes when attracting new players.
The legacy it has created hasn't been by chance though, it's down to the talent and skill of our design and development team in understanding what is required to keep a game fresh. They have taken the key ingredients of what made it a success and expanded on that to create something new.
SB: How do you continue to keep the game fresh but also maintain the core enjoyment that players have come to experience with the title?
JP: Listening to feedback from both operators and players is key, while also being observant of trends that can help to shape future iterations.
The proven formula of keeping the key characteristics the same but introducing new features and mechanics is easier said than done, but we've managed to build a fantastic team that has this insight down to a tee and they manage it time and again.
Previous versions have included Megaways and Prizelines, while The Big Catch introduced a new twist to free games. With every release, we want to keep the best parts of what has come before and add new features and mechanics that have since developed and weave them into the gameplay, creating a seamless new experience that manages to retain its original charm.
SB: What have you learned from this series when it comes to developing new titles/series?
JP: Building game families is vitally important to meet the expectations of both operators and players. It's something that we have a lot of success with and as such has become a core tenet of how we develop our content.
For operators, it means they're able to immediately trust a familiar franchise with each new variation instantly grabbing the attention of players. On the other side, players can experience something new with a recognisable brand, similar to how they consume new iterations of movies, television shows and video games.
If a new version retains their interest, that's fantastic, otherwise we often see players return to the original or another version to keep them immersed.
SB: What can we expect moving forward with Fishin' Frenzy?
JP: Yet more variations of the classic gameplay for players to experience! It's our responsibility to introduce new concepts and push the boundaries to take the brand forward in new directions.
Our team is never short on ideas, so expect to see some new mechanics and features incorporated into the gameplay in the near feature. You only have to look elsewhere at our Deal or No Deal branded games to see that we're more than capable at bringing fresh ideas to the table.
A major affiliate site recently referred to Fishin' Frenzy as "slot royalty" and as much as we're very flattered by the title we're inclined to agree. It's been an absolute pleasure to work with such a rewarding title and we're confident there are more big catches for our fisherman to come.