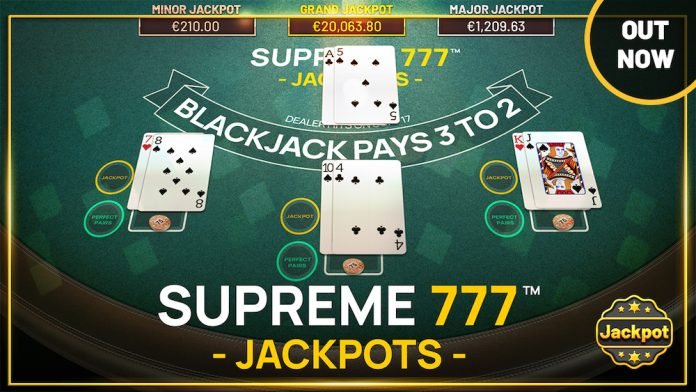 Betsoft Gaming has enhanced its table game portfolio with the addition of blackjack title, Supreme 777 Jackpots, which the firm believes "delivers on every front".
The game offers players the ability to play up to three simultaneous blackjack hands at once while integrating a jackpot functionality with three enhanced prizes on offer.
Offering an RTP of 97.86 per cent, Supreme 777 Jackpots uses six decks of cards as players hope to get as close to 21 as possible without going bust.
"Supreme 777 Jackpots is a 'classic with a twist' Betsoft release," said Anastasia Bauer, Head of Account Management, Betsoft Gaming, on the launch.
"Whether you are a fan of strategy or lucky chances, this jackpot blackjack is designed for you. Our players expect constant innovation from us and Supreme 777 Jackpots delivers on every front. We are expecting this to be a big hit with our clients."
The game uses 'Las Vegas Strip' rules, except for the pack being shuffled after every round and players being able to double after splitting and double on cards nine, 10 and 11 only.
With the game offering up to three blackjack games at once, each hand is played solely against the bank and players can place different levels of bets on each hand to vary their wagers.
Moreover, players can also place a side bet of 'perfect pairs' awarding multiplied bet amount prizes if the hand's first two dealt cards match in colour, value or both, awarding up to x25 the player's bet if a pair is revealed.
Additionally, there is also a chance to win one of three progressive jackpot prizes displayed above the table. If players make the 'jackpot' side bet then they will hope to be dealt as many sevens as possible on the selected hand.
If one of the player's cards is the number seven, a multiplied bet amount prize of x1 will be awarded, while two sevens will provide x5.
When the player is dealt three sevens on their selected 'jackpot' side bet hand, but all three sevens are of different colours or suits, then a prize of x100 will be paid out. If all three sevens match in colour, then the minor jackpot prize will be presented.
Being dealt three sevens all of the same suit of clubs, hearts and diamonds will provide the major jackpot prize while landing three sevens of spades will award the game's grand jackpot prize.
If readers would like to try out Supreme 777 Jackpots for themselves, they can click here to be directed to Betsoft's official website.