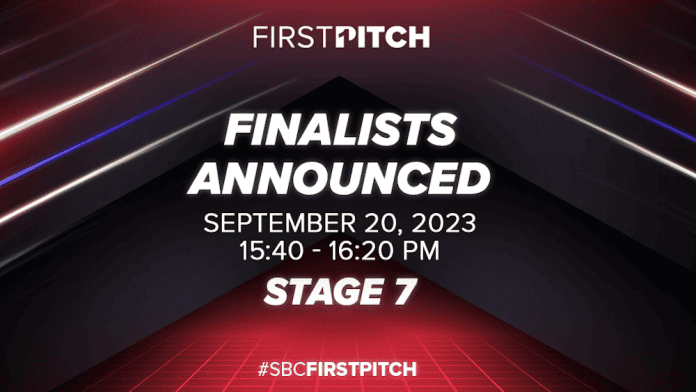 Five innovative industry start-ups have been selected as finalists for the second edition of SBC Summit Barcelona's First Pitch. The finalists will compete for an exclusive prize package valued at over €60,000, to aid in the growth and development of the winning company.
The competition, powered by Yolo Investments, will serve as a platform for the aspiring companies to present their products and business plans in front of a live audience of industry leaders. The winner will be chosen by a judging panel consisting of venture capital and investment experts.
The First Pitch Competition will be hosted at the Fira de Barcelona Montjuïc, on Wednesday 20 September, and will feature as part of the 'Future of Technology' conference track.
Rasmus Sojmark, CEO & Founder of SBC, said: "As event organizers, we believe that SBC First Pitch Barcelona occupies a central role in facilitating innovation in the industry.
"Competitions like this serve as a platform for emerging talents to showcase their groundbreaking products and services, whilst also gaining invaluable experience presenting in a public space and networking with industry elite."
"SBC First Pitch is essentially about innovation meeting opportunity, ultimately encouraging the industry to grow, welcome new ways of thinking and foster an environment that nurtures innovation and collaboration."
The five finalists of the SBC First Pitch Barcelona are:
We The Bookie: an online B2C sports betting platform with a 50 per cent monthly Gross Gaming Revenue rebate for losing customers.
Rdentify: a platform that identifies vulnerable customers during customer conversations in real-time and flags them to the safer gambling team and triggers customisable interventions as soon as behavioural risk has been flagged.
SnapOdds: Leveraging the user's mobile camera to recognise live events on TV and streaming, SnapOdds is akin to a 'Shazam for sports betting,' allowing operators and affiliates to integrate SnapOdds into their websites.
SQR Group: simplifies compliance and reduces fraud by enabling seamless identity verification without storing sensitive documents, using secure QR code technology.
Sport Exchange Market: a web app platform where fans can trade virtual shares of football teams, experiencing the same adrenaline as when they are betting or playing fantasy sports games.
The First Pitch competition will be hosted by Anton Kaszubowski, (Managing Director, SBC Advisory Partners), Adam Rosenberg (Senior Advisor, Gaming & Leisure. Blackstone), Evert Einroos (Partner, Yolo Investments), Peter Heneghen (Senior Associate, Bettor Capital), Hilary Stewart-Jones (Independent Consultant, Harris Hagan) and Claudia de la Riva (Angel Investor, Various), who will each cast their vote to determine the winner.
The winning start-up will receive a prize package comprised of:
A two-day workshop trip to Tallinn with Yolo Investments Founder Tim Heath, including flights, hotel, and covered expenses – valued at €25,000.
An SBC Media promotional package including a magazine ad in SBC Leaders Magazine, two featured editorials promoting the business and a guest appearance on the iGaming Daily Podcast – valued at €7,000.
A prize pack from Receptional, in which a dedicated team will collaborate with the winning company to provide a tailored digital marketing package – valued at €10,000.
A Square in the Air press pack that includes a corporate video filmed on-site at the event, two press releases distributed on the Square in the Air social channels, a free social media audit, competitor analysis and a strategy guide to help build the company's profile – valued at £5,000.
An exclusive brand or web design package from Vegas Kings, the igaming design and development agency – valued at €2,500.
A 3x3m booth, including a turnkey standbuild, sponsorship mention, and 4 complimentary tickets for the SBC Summit 2024 – Valued at €15,000.
Last year's edition of SBC First Pitch Barcelona saw Kero Gaming, an in-game micro-betting and interactive social platform, crowned the winner. Paradox, a parimutuel betting protocol where all the commission charged is distributed proportionally to the people who bet before you, was the runner-up.
SBC Summit Barcelona is taking place between 19-21 September, at the Fira de Barcelona Montjuïc.
Stay up-to-date with the latest news, speakers & exhibits or additions and conference content by subscribing to the bi-weekly Linkedin SBC Summit Barcelona newsletter.
You can purchase your ticket here.