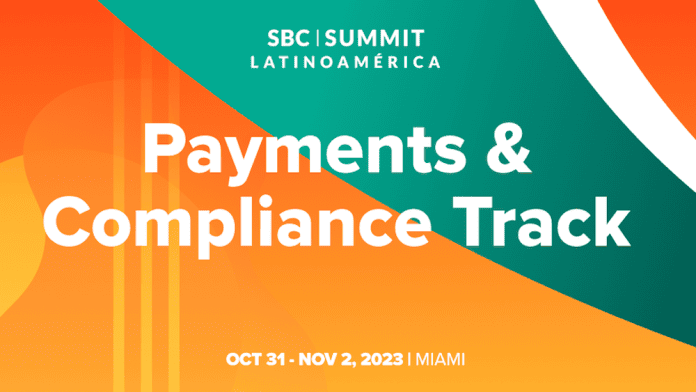 The 2023 edition of SBC Summit Latinoamérica is to showcase the latest innovative financial practices and compliance strategies during the Payments & Compliance conference track.
Hosted at the Seminole Hard Rock Hotel & Casino, Miami, the track will commence on Thursday 2 November, the second core day of the igaming and sports betting event.
The agenda will present 3,000 delegates with the opportunity to hear insights from regional payment and compliance leaders, as they delve into the complexities key markets face in the Latin American region.
Delegates can anticipate discussions surrounding the demand for cutting-edge payment methods by Latin American bettors, the regulatory complexities surrounding lotteries as they continue to move into the digital realm, innovative strategies to maximise player protection and anti-fraud practices, and more.
Rasmus Sojmark, CEO & Founder of SBC, said: "Stable and effective payment options and compliance standards are the foundation of any prosperous company. The Payment & Compliance track is a guide for delegates to navigate the intricacies of various payment options and systems and the shifting regulatory frameworks.
"We hope that this knowledge will empower them to stay ahead of the curve, whilst ensuring their operations remain secure, customer friendly and ethically sound."
Opening the track is a 'Payment Leaders' discussion that will not only delve into the current payment methods and player protection technologies accessible to operators but also trace the ongoing and prospective advancements in this technology.
Constanza Muñoz (Chief Legal Officer, Pronto Paga), Roger Redfearn-Tyrzyk (Vice President of Global Gaming, IDnow), Lawrence Levy (Chief Commercial Officer, OKTOPAY) and moderator Shelley Walsh (Head of Account Management, Neosurf) will explore the potential risk Latin American operators face from money laundering and fraudulent activities, and look at how omnichannel technologies and KYC processes, in conjunction with compliance checks, can help solidify effective player protection.
'Brazil – Banking a Successful iGaming Brand' will discuss the pivotal role payment providers are playing in providing optimal user experience for players, and whether Brazilian bettors will opt for traditional or more unconventional payment methods.
Leonardo Montenegro Chaves (Country Manager Brazil, OKTOPAY), Fernando Goncalves (Founder & Managing Director, FGO Legal), Leonardo Baptista (CEO, Pay4Fun), and panel moderator Ari Celia (Advisor, Pay4Fun) will explore the region's payment options, discuss whether brands can truly assure the safety of their customers, and will analyse key learnings using leading providers and operators as case studies.
Furthermore, 'Building a Sustainable Future for Digital Payments' will examine Latin America's digital-first economy and its readiness to engage with a wide range of cutting-edge payment technologies.
Conversations will focus on how payment service providers can be used to meet the region's unique demand for cutting-edge payment methods and how this will aid in creating higher levels of player engagement and player experience for operators in the region.
Additional conference tracks available to attendees throughout the summit include Leaders, Sports Betting Product, Affiliate & Advertising, Emerging Markets & Technology and the Sports Teams & Media.
You can keep up-to-date with the latest news, speakers & exhibitor additions and conference content by subscribing to the bi-weekly LinkedIn SBC Summit Latinoamérica newsletter.
You can purchase your early bird ticket for the discounted price of $495 here.