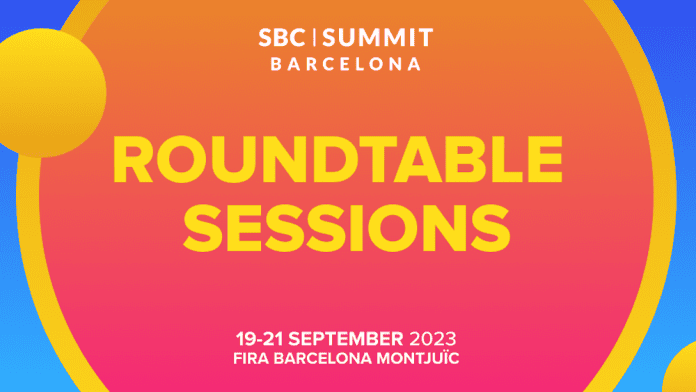 This year unveils a fresh addition to the SBC Summit Barcelona conference on September 19-21, with each day culminating in roundtable sessions.
The 30 roundtables, hosted at the Fira de Barcelona Montjuïc, will each be overseen by a moderator and cover critical industry topics and global markets. This setup fosters active engagement, focused discussions that harmonise with specific business requirements and provides the opportunity for interactive problem-solving.
Rasmus Sojmark, CEO & Founder of SBC, said: "Over the years, we've observed a significant surge in delegate enthusiasm for our roundtable sessions. These gatherings offer a wonderful chance for participants to extend their learning experience beyond the established conference schedule, immersing themselves in the core discussions driving the industry.
"Consequently, we've introduced a new approach this year, ensuring each day concludes with a more personalised and concentrated dialogue. This format facilitates direct engagement with experts, enabling attendees to confidently address their most pressing inquiries."
On Wednesday 20th September, the sessions will revolve around the five exhibition zones: Sports Betting, Casino & iGaming, Affiliate, Media & Marketing, Payments & Compliance and Emerging Tech. Highlights include:
Winning the Race: Exploring the Role of TV Signals and Betting in the Global Horse Racing Industry.
Live Casino: How to Maintain the Live Casino Experience Alive?
Payment Technology: How Technology is Shaping Modern Accounting.
Transitioning Towards Sustainability Beyond Mere Compliance.
The Power of Parasite SEO – Everything you need to know.
Blackhat SEO & PPC: Discover the Blackhat SEO and PPC Tricks and Tips.
Emerging Tech vs Customer Experience.
Access the full list of Day 1 roundtable sessions.
The roundtables taking place on Thursday 21st September, will explore key established or burgeoning markets.
There will be tables dedicated to the United States and Canada to cover the North American markets. For those interested in South America, there will be separate roundtables covering Latin America and Brazil. For African coverage, there will be tables turning the attention to South Africa and Nigeria. Delegates can also attend a session on the Eastern European markets and seize the opportunity to explore the intricacies of Asian regions such as India and Japan.
Delegates seeking a focused exploration of European jurisdictions can attend dedicated tables on Italy, Spain and DACH markets, which will encompass sessions on Germany, Austria and Switzerland. Delegates can also attend focused tables centred around the United Kingdom and Nordic countries.
Among the notable experts are Borja Mata (Sportsbook Owner, Codere), Isabelle Delisle (Head of Group Payments, Pinnacle), Tom Banks (Head of Corporate Affairs UK / Global, Kindred), Anne Muscat Scerri (Chief People Officer, Videoslots), Simon Vincze (Responsible Gambling Projects Manager, Casino Guru), Ivana Flynn (SEO Director, ComeOn), Willem Van Oort (Founder, Gaming in EU: Holland, Spain, and Germany), Paul Burns (CEO, Canadian Gaming Association), Caroline Kongwa (Chief Strategic Adviser, The National Gambling Board), Ioannis Panopolous (Online Lotteries Director, OPAP), Andrea Bellezza (VP of EU and Asia Pacific markets, KaFe Rocks), Robin Bennett (Head of Department: Regulatory Compliance, Western Cape Gambling and Racing Board), Maha Otu (Director, Betwinner Nigeria) and Cassio Filter (Brazil Country Manager, KTO Group).
With the SBC Summit Barcelona anticipating a gathering of 15,000 delegates, the roundtable discussions offer a unique and intimate environment for engagement. Those keen on participating should indicate their interest in joining a specific roundtable upon obtaining their event ticket.
Register your interest for the roundtable sessions by following these links: day 1 roundtable session and day 2 roundtable sessions.
Stay up-to-date with the latest news, speakers & exhibit or additions and conference content by subscribing to the bi-weekly Linkedin SBC Summit Barcelona newsletter.
You can purchase your early bird ticket for the discounted price of €400 here.