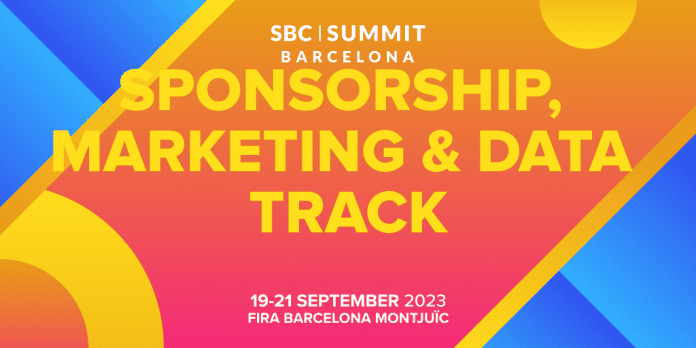 15,000 delegates will convene at this year's SBC Summit Barcelona to witness industry specialists discuss the latest sponsorship trends and marketing tactics at the dedicated 'Sponsorship, Marketing & Data' track.
This will take place on the first core day of the global betting and igaming show, hosted at the Fira de Barcelona Montjuïc on Wednesday, 20th September.

The agenda will introduce attendees who are in search of effective methods to expand their business with innovative marketing strategies, presented by a range of industry visionaries. Attendees can anticipate discussions that encompass a variety of topics, including the novel approaches that sports clubs and leagues can adopt to diversify their revenue streams, the necessary measures sports teams should undertake to thoroughly evaluate the risks and opportunities associated with gambling sponsorships, the potential the Middle East region holds for esports, and more.

Rasmus Sojmark, CEO & Founder of SBC, said: "The 'Sponsorship, Marketing & Data' track is an exciting new addition to our conference agenda. The track will equip attendees with the strategic knowledge to amplify their brand, master marketing intricacies and utilise data on a global scale. This track will prove integral to attendees as more markets in the US, Latinoamérica and Europe evolve."

Kicking off the conference track is the panel titled 'Sports & Sponsorship Landscape – Growth Markets and Partnerships.' This will delve into and assess gambling sponsorship in emerging markets like the US and LatAm, along with well-established markets such as Europe.
Zeno Ossko (CEO, BetWarrior), Fellipe Fraga (Chief Business Officer, EstrelaBet), Pablo Arquero (Head of Sponsorship, Real Betis) and panel moderator Hristo Spasov (Director Sports Betting, Codere) will also engage in discussions about enhancing engagement in Europe, overcoming the plateau effect, in addition to looking at the distinctive opportunities that markets offer for sports teams seeking partnerships with gambling brands, as well as the strategies that sports teams can employ to navigate the intricacies of varying global markets.
'Football Fever: Tapping Into Latin America's Strength?' will analyse the flourishing Latin American sponsorship market and hypothesise its evolution in the coming years.
Panellists Rafael Ganem (Commercial Director, Botafogo), Francisco Lorenzo (Brand Manager, River Plate), Roby Martinez (Comision Directiva, Racing Club), Eduardo Quintes (Marketing Manager, CR Flamengo), alongside panel moderator George Harborne (Director of Sponsorships, SBC) will discuss whether the global push on responsible gambling will affect the sponsorship landscape in Latin America, the regulatory challenges that could affect opportunities for gambling brands and the strategies companies should consider to effectively engage with football fans.
Furthermore, 'Comparative Sponsorship Markets – Culture, Regulation and New Opportunities' will look at the landscape of sponsorship partnerships and their regional complexities.
Dmitry Belianin (CCO, PMI), Adam Lamentowicz (VP, Superbet Poland), Javier Troncoso (CCO, Futbol Sites) and panel moderator Russell Yershon (Director, Connecting Brands) will explore the challenges sports teams and operators face when entering multi-region partnerships, especially when taking into account varying cultural and regulatory factors.
Attendees will be able to access additional marketing-related conference tracks at the Affiliate, Marketing & Media Zone.
Other conference tracks available to attendees on the first day of the agenda include Leaders, Future of Sports Betting, Future of Casino & iGaming, Affiliate Focus, Compliance & New Markets and the Future of Technology.
Stay up-to-date with the latest news, speakers & exhibit or additions and conference content by subscribing to the bi-weekly LinkedIn SBC Summit Barcelona newsletter. You can purchase your early bird ticket for the discounted price of €400 here.