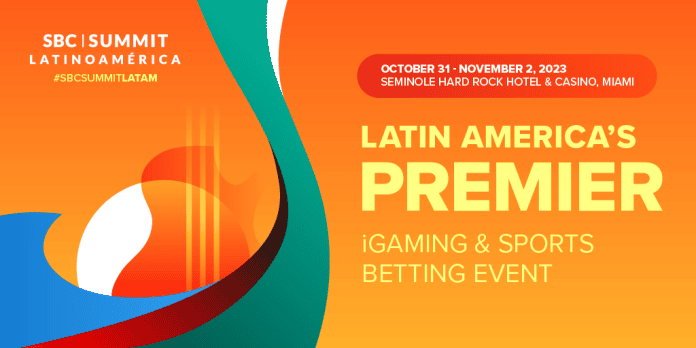 SBC celebrated yet another milestone last week after successfully wrapping up the largest and most successful edition of SBC Summit Latinoamérica to date.
The event, taking place from October 31 to November 2m built upon the success of the previous year by welcoming 2,500 senior executives, all with a focus on the Latin America region.
With a substantial 150 per cent increase in attending delegates from the 2022 edition, the post-event survey revealed an impressive 80 per cent of attendees expressed high satisfaction, underscoring the unwavering attention to detail and quality SBC has become synonymous with.
Delegates in attendance included stakeholders from 234 regional and globally recognised operators, as well as affiliates, suppliers, game developers, media and sports teams and 11 regulatory bodies.
Rasmus Sojmark, CEO and founder of SBC said: "SBC Summit Latinoamérica 2023 has been truly exceptional, and I want to extend my gratitude to all who attended and contributed to this success.
"The growth we've witnessed over the past three years for this event is remarkable, and it's inspiring to see it evolve alongside such a promising and dynamic region. With the post-event survey indicating that the vast majority of attendees are already inclined to return in 2024, we are brainstorming ways to make the 2024 edition even better!"
A notable highlight of the conference program was the roundtable sessions, which provided attendees with the opportunity to engage in personalized and focused discussions with experts from key Latin American markets. The popularity of this format proved so overwhelming, that several sessions, such as the Brazil-focused roundtable, necessitated additional seating and tables to accommodate the active participation of attendees.
The conference agenda featured a line-up of over 150 industry experts on three dedicated conference stages, across 48 distinct panels. Notably, almost half of the speakers held C-level positions or higher, representing a variety of leading operators and affiliate brands.
Among the executives who appeared throughout the event were Gonzalo Perez (CEO, Apuesta Total), JD Duarte (CEO, Betcris), Fellipe Fraga (Chief Business Officer, EstrelaBet), Zeno Ossko (CEO, BetWarrior), Ida Lopez (President, IPJyC de Mendoza) and Andre Gelfi (President, Instituto Brasileiro de Jogo Responsável).
The conference agenda also featured some remarkable moments for delegates with several exclusive keynote sessions. Kicking off the event was an exclusive fireside chat featuringJulio Cesar Tamayo, CEO of WPlay, and Dr. Evert Montero Cárdenas, President ofFecoljuegos. On the second core day of the event, there was an insightful keynote panel led by BetWarrior CEO Zeno Ossko and Mariano Zabaleta, a former professional tennis player who currently serves as the Vice President of the Argentine Tennis Association.
Given that key Latin American countries, such as Brazil, are currently undergoing regulatory transitions, this year's conference program placed a strong emphasis on this subject, with SBC Summit Latinoamérica 2024 committed to shining an even brighter light on this subject.
Prominent regulators were represented at the conference by Cristina Romero (Partner, Loyra), Luiz Felipe Maia (Partner, Maia Yoshiyasu Advogados), Tomas Enrique Garcia Botta (Socio, MF Estudio Abogados), Carlos Baeza Guíñez (Founder, Carlos Baeza & CIA Abogados), Jaime Rivera Emmanuelli (Regulator, Puerto Rico Gaming Commission), Jeannie Hovland (Vice Chair/Director of NIGC Office of Self Regulation National Indian Gaming Commission), and many more.
Xabier Maribona, CEO of Grupo Retabet said: "SBC Latinoamérica has once again proved to be an excellent event for updates on the reality of our sector in this great set of emerging markets. It was very interesting to have new regulatory details about countries like Chile, Ecuador, Brazil or Peru and participate in debates about already consolidated countries like Colombia or Mexico.
"It is very productive to be able to see, hear and talk with so many relevant people in the sector. This is an event to mark on the annual calendar without any doubt."
Enriching the educational experience of the conference agenda, attendees had the opportunity to immerse themselves in the latest technology, forward-thinking service providers and hottest games on the exhibition floor.
SBC Summit Latinoamérica hosted over 100 exhibitors and sponsors from global and regionally-recognized brands, marking a 75 per cent increase over last year's event.
Amongst exhibitors, the post-event survey data revealed a net promoter score of 70. Furthermore, the survey also underlined that a significant 90.9 per cent of exhibitors expressed a strong intention to return for the 2024 edition, affirming that this year's exhibition stands as the most successful in the event's history.
Throughout the event, attendees had numerous opportunities to enhance their experience by participating in a number of exciting networking events. These events provided a relaxed and enjoyable atmosphere, enabling delegates to establish meaningful connections with regional executives.
Daytime networking events held on the exhibition floor included the highly popular Global Gaming Women's Breakfast meet-up on the morning of November 1 and the Tribal Gaming Women's Breakfast meet-up which kicked off the second core day of the event.
Evening networking events included a pre-registration Halloween-themed party at the Rooftop Live bar located at the top of the Seminole Hard Rock Hotel & Casino on October 31, followed by an exclusive networking event on the field of the Hard Rock Stadium, home to the Miami Dolphins, one day later.
JD Duarte, CEO of operator Betcris said: "We are delighted with our experience as sponsors at the SBC Summit Latinoamérica event. The event has greatly exceeded our expectations regarding the executive attendance and the meaningful meetings we have held.
"These connections will be essential to boost the achievement of our strategic objectives. We keep confirming that SBC not only organizes high-quality events but also cultivates a community that has an extremely positive impact on our industry."
The SBC Awards Latinoamérica wrapped up the last day of the event on November 3, honouring the industry's finest across 25 featured categories. The ceremony took place at the Terrace Ballroom of the Seminole Hard Rock Hotel & Casino, with sports journalist and TV personality Ines Sainz resuming her role as host of the ceremony.
SBC will return to Latin America on November 5 – 7, 2024, at the Seminole Hard Rock Hotel and Casino in Miami.
For sponsorship and exhibition opportunities email sales@sbcgaming.com.