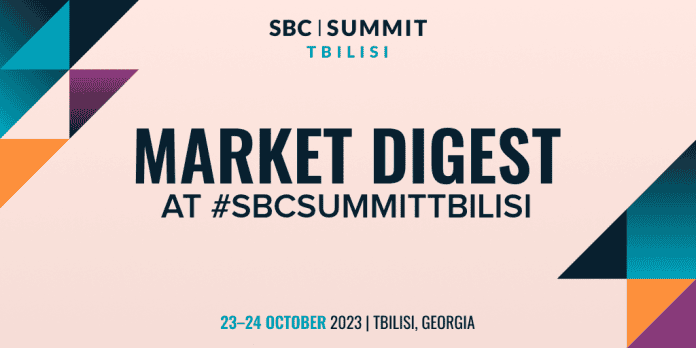 SBC Summit Tbilisi is proud to announce the 'Market Digest' conference track, highlighting the opportunities and challenges that form the key market dynamics in the regions.
The event, taking place on October 24 at the Sheraton Grand Tbilisi Metechi Palace*, is jointly organised by SBC and the Georgia-based igaming and sports management company SMH and is expected to draw an attendance of over 1,000 participants.

Along with an agenda spanning two conference stages enriched by insights from over 40 industry experts, SBC Summit Tbilisi will feature an exhibition area showcasing more than 20 local and regional brands.
Rasmus Sojmark, CEO and Founder of SBC, said: The Eastern Europe, Central Asia, and Black Sea regions, including our host country Georgia, have taken a prominent role in industry dialogues.
"This shift is driven by the dynamic regulatory environments in some of these markets and their evolution into igaming centres that attract both local and international companies seeking to leverage local opportunities.
"The 'Market Digest' conference track offers a closer examination of the complexities within these key markets, enabling the industry to gain valuable insights for navigating their unique dynamics."
A panel titled 'Eastern Europe and Central Asia: How the Region is Evolving' will offer a comprehensive view of the substantial opportunities within diverse regional markets, including Romania, Ukraine, Georgia, and Central Asia.
Galymzhan Duambekov (President, SRO of Betting and Lotteries Kazakhstan), Viktoriya Zakrevskaya (Deputy Chairman, UGC), Marcin Jablonski (former CCO, LV Bet), and panel moderator Giorgi Gvenetadze (CCO, Adjarabet) will provide insights into the regional intricacies and opportunities to capitalise on.
'Georgia: Eastern European Hub of Leading iGaming Organisations' panel will focus on a country that has positioned itself as a central hub for both igaming operators and providers.
Quirino Mancini (President, IMGL), Giorgi Tsamalaidze (CLO, Random Systems Georgia), and moderator George Isakadze (Editor in Chief, Forbes Georgia) will explore what lies ahead for Georgia, known for its unique blend of industry expertise, multicultural understanding, effective regulations, and a skilled workforce, in the ever-evolving industry landscape.
'SBC Leaders: Industry Insights Panel' will showcase Irakli Asanishvili (CEO, Adjarabet) and Maia Kopinadze (CEO, Europebet – Betsson Group). Together with the moderator Andrew McCarron (Managing Director, SBC), they will discuss the potential of Eastern Europe and Central Asia and its transformative impact on the industry by dissecting the crucial elements that lead to success in regions occasionally challenged by unpredictable shifts driven by regulations and cultural nuances.
Shota Arveladze (Founder, AAA Foundation), Gianluca Varano (Digital Business Director, La Gazzetta dello Sport), and Yevhen Levchenko (President, Dutch Trade Union for Professional Footballers), along with panel moderator Lasha Machavariani (Founder & CEO, SMH), will come together to explore the theme of 'Development of Sports and Strategic Collaboration: Effect on Business.'
Drawing from their diverse backgrounds, which include professional football experience, sports journalism, and trade union representation for football professionals, the panellists will delve into the dynamic synergy between the sports and betting industries and the resulting collaborative effects.
Alongside these captivating discussions, the conference will present an array of panels encompassing topics like responsible gaming and player protection in the digital age. Esteemed experts such as Dan Iliovici (Vice President, Rombet) and George Mamulaishvili (Head of Administration, Georgian Gambling Association) will lend their insights to these sessions.
Additionally, panellists will delve into the phenomenon of flexible payment solutions, shedding light on why they are gaining such prominence in the gaming industry, and delivering attendees valuable insights into the evolving payment landscape within the sector.
*Attendees can take advantage of pre-registration and join pre-event networking drinks at the Stamba Hotel in Tbilisi on October 23, from 19:30 to midnight.
Secure your full access pass, which grants you access to the conference and networking amenities, at the Early Bird rate of $150 instead of the regular $200 when you purchase it through the official SBC Summit Tbilisi page by October 2.
For exhibition and sponsorship opportunities please contact [email protected] or Baki Lortkipanidze at [email protected].
Are you an operator? Contact SBC's Relationships team via this form to secure your complimentary pass to the event.
Affiliates can request a complimentary event ticket by submitting their details here, subject to review by the relevant department.