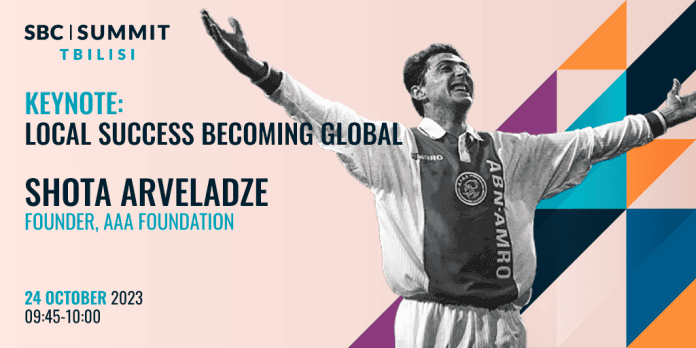 Renowned former football player turned manager and the founder of the charity organisation AAA Foundation, Shota Arveladze, is confirmed to deliver the welcome keynote address at the upcoming SBC Summit Tbilisi.
The exhibition and conference will be held at the Sheraton Grand Tbilisi Metechi Palace from October 23 to 24 and will delve into the opportunities and challenges of the sports betting and igaming industries in Georgia and its surrounding regions, including Eastern Europe, Central Asia, and the Balkans, among others.
In the keynote titled 'Local Success Becoming Global,' Arveladze will explore the pivotal role played by international organisations, whether within the sports realm or across other industries, in fostering regional development.
These organisations provide crucial resources, training, and infrastructure, all while elevating the global visibility of regional initiatives. In sports, specifically, such organisations provide exposure to international standards and financial support through funding and sponsorships, which, in turn, attract fans, sponsors, and opportunities for players.
Arveladze said: "Sports is something that goes beyond borders, and I've been lucky enough to experience its magical ability to bring people together. Whether on the field or in life, I've seen the incredible things that can happen when we collaborate. I've always aimed to show how partnerships on an international level can make a big difference in regional football."
In addition to the above, the former football star will also provide valuable insights into how the betting industry can act as a catalyst for sports development through strategic partnerships.
"We all know that the betting industry plays a major role in sports today, so I am very happy that SBC and SMH brought this event to my home country and are giving all of us an opportunity to discuss how we can do better," Arveladze added.
Arveladze's 18-year club career indeed transcends borders, encompassing domestic and international achievements. His legacy is firmly established as one of Georgia's greatest football exports, thanks to his time as a forward with esteemed clubs like his home town club Dinamo Tbilisi, Trabzonspor, Ajax, and Rangers.
In his coaching career, Arveladze commenced his managerial path with Kayserispor in 2010, and most recently, he served as the manager of Hull City, an EFL Championship club. Furthermore, Arveladze continues to champion the development of football in the region, stressing the crucial role of international partnerships in advancing the sport's reach.
The AAA Foundation, founded by the former footballer, stands as a testament to his unshakable dedication to making a positive impact, not only within the world of sports but also in broader spheres.
It serves as the platform for Arveladze's philanthropic initiatives, channelling resources and efforts into diverse projects aimed at nurturing talent, promoting sportsmanship, and advocating for inclusivity within the world of sports.
Through this foundation, he aims to create opportunities for aspiring athletes, provide support to marginalised communities, and drive positive change through the universal language of sports.
Rasmus Sojmark, CEO & Founder of SBC said: "It's truly inspiring to witness athletes who continue to make a difference even after their professional careers have concluded. Shota has spearheaded various endeavours to support his nation and empower young talents, and it's a tremendous privilege to welcome him as the keynote speaker at our event in his hometown of Tbilisi."
Earlier this year, SBC and SMH, co-organisers of SBC Summit Tbilisi, partnered with the Arveladze Foundation to support the charity football match, Game4Ukraine 2023. This significant event included both former and current football icons, with Oleksandr Zinchenko and Andriy Shevchenko serving as team captains, all with the goal of generating funds to aid Ukraine's reconstruction endeavours.