Igaming studio Turbo Games has released its new title, labelled as a "wheel of fortune-type" product, entitled JavelinX.
Themed on the Ukrainian Armed Forces, the company's new game is said to incorporate a similar mechanic to the Wheel of Fortune but utilise an interface that resembles a real Javelin with modes, directions and statuses. 
Turbo Games' Javelin includes 53 military vehicles of various types, including differing ranges. The odds for each are 48.14 per cent for the 25 armoured vehicles, 31.48 per cent for 17 battle tanks, 18.52 per cent for 10 helicopters and 1.85 per cent for one warship.
Moreover, the game includes a system of ranks feature, which is based on the military ranks of the Ukrainian Armed Forces. This begins with the 'soldier' position and progresses up to 'general'.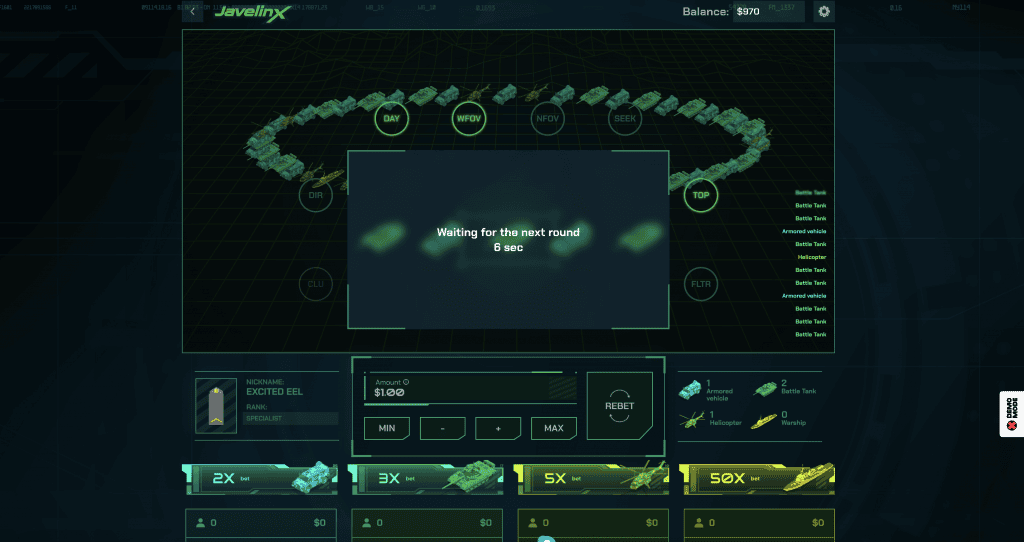 During this mode, the player achieves an upgrade of said rank if they hit its target. Furthermore, players can place a bet on either all types of vehicles in the range simultaneously or on a select few.
In addition, the title provides a list of targets that were last hit on the right hand side of the game field. These statistics, according to Turbo Games, aids the player in formalising their gameplay strategy.
Also, lower down the game display, players can see their personal game data in JavelinX. This will include their rank and the list of current players with the same bet at the bottom of the page.