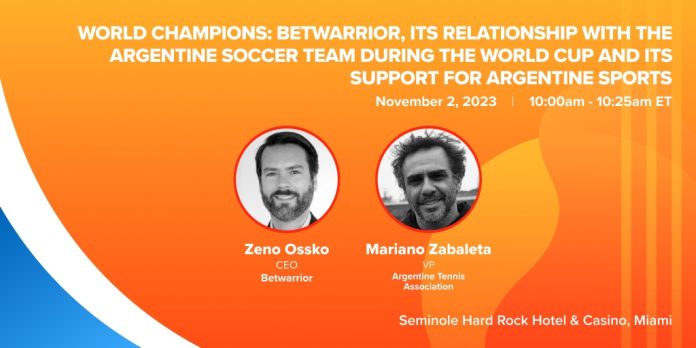 This year's edition of SBC Summit Latinoamérica will bring together the collective power of Zeno Ossko, CEO of BetWarrior, and former tennis star Mariano Zabaleta in an exclusive keynote panel that will delve into the intricate world of sports and sponsorship deals.
The 'World Champions: BetWarrior, its relationship with the Argentine soccer team during the World Cup and its support for Argentine sports' fireside chat will kick off the second core day of Latin America's premier igaming and sports betting event, held at the Seminole Hard Rock Hotel & Casino, Miami, between October 31-November 2.
In recent years, successful partnerships have become essential for sports teams seeking additional investment in their teams and future competitions, whilst also enhancing brand awareness and fostering loyalty among sports fans for operators. Consequently, the need for such partnerships has proven imperative across all major sports.
As Latin American markets increasingly undergo regulation, the discussion on sports sponsorships becomes even more relevant. The keynote aims to explore the challenges and experiences associated with these agreements. Discussions will delve into the broader impact of these partnerships within the region and the valuable insights they offer for the wider sports betting industry.
Ossko embarked on his betting career 16 years ago, back in 2007, when he was appointed Head of Gaming for German sports betting company mybet. During his tenure, Ossko rose to Managing Director in 2011 before ascending to the position of CEO in 2015, which he held for a year.
In 2016, Ossko made a significant career move to The Stars Group, where he served as Managing Director of Betstars. After a year, Ossko took on a new challenge by joining the newly established BetWarrior as Chief Operating Officer, a position he held until 2020 when he was promoted to Chief Executive Officer—and which continues to be his current role.
Founded in 2019, BetWarrior has emerged as a leader in Latin America, establishing a strong presence in over 12 Latin American markets. The company attributes its success to its unwavering commitment to user experience, social engagement and stringent data-driven approach.
During Ossko's tenure, BetWarrior has secured several landmark sponsorship deals, including partnerships with prominent organsations such as the Argentine Hockey Confederation, the recently crowned World Cup champions, the Argentine national football team, and most recently, the Argentine Tennis Association.
Zabaleta, a retired professional tennis player hailing from Argentina, has left an indelible mark on the world of tennis. He achieved a remarkable career, reaching the quarter-finals of the 2001 US Open, and the final of the 1999 Hamburg Masters, whilst also ranking No. 21 in the singles world ranking.
Since retiring from competitive play, Zabaleta has transitioned into the world of sports broadcasting and has been providing coverage of the world's major tennis tournaments for the ESPN sports network. Additionally, in recent years, he has assumed the role of Vice President of the Argentine Tennis Association.
With BetWarrior entering into a sponsorship deal with the AAT earlier this year, Ossko and Zabaleta are ideally positioned to provide delegates with their unique personal perspectives on the dynamic intersection of sports and sponsorships.
Both will delve into the intricacies of partnerships, providing key insights for both operators and sports teams, and showcasing their shared passion for sports.
Ossko said: "BetWarrior has made tremendous strides in sports sponsorship in the Argentinian market in recent years. With the ongoing regulation in Latin American markets, it is imperative for brands to recognise not only the valuable lessons to be learned but also how these partnerships can prove equally beneficial for operators, sports teams and the wider sports community."
Zabaleta noted: "Sponsorship is an integral component of every sports team's operation, and I believe that those in attendance will greatly benefit from the unique opportunity to listen to the perspectives of sports teams on the subject. I hope this session will serve as the perfect springboard for anyone eager to expand their understanding of forging such partnerships."
Rasmus Sojmark, Founder and CEO of SBC, added: "In a region where sports is ingrained in the very fabric of the culture, devising a seamless and fruitful strategy for effective sports team sponsorship is essential.
"Zeno and Mariano not only possess extensive expertise in the subject but also embody the success of a thriving partnership. There is no question that this panel will offer immense value to delegates in search of a roadmap to successful sports sponsorships, making it essential viewing.
Delegates seeking to continue their educational journey will have the opportunity to gain invaluable insights at a plethora of additional panels taking place on the second core day of the event. Conference tracks available to delegates include Emerging Markets & Technology, Sports Teams & Media, Payments & Compliance and Lotteries & iGaming.
You can keep up-to-date with the latest news, speakers & exhibitor additions and conference content by subscribing to the bi-weekly Linkedin SBC Summit Latinoamérica newsletter.
You can purchase your ticket for SBC Summit Latinoamérica by visiting the website. For groups of three or more people, a special discount will be applied, saving you $150 on the regular ticket price (per ticket).