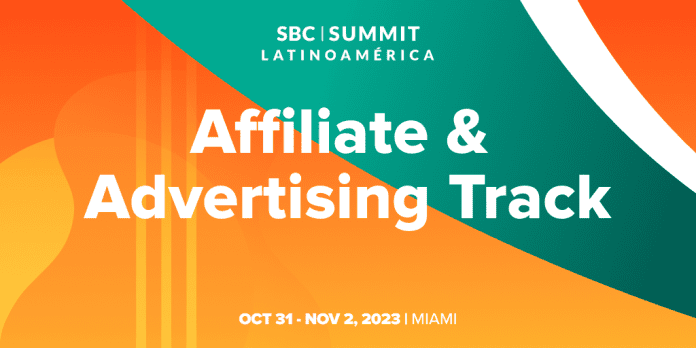 SBC Summit Latinoamérica will provide over 3000 delegates with the opportunity to delve into affiliate and advertising strategies specific to the Latin American landscape, during the Affiliates & Advertising track.

The dedicated track will commence on the first day of the igaming and sports betting event on Wednesday 1 November, and will be held at the Seminole Hard Rock Hotel & Casino, Miami.

The conference will present zone attendees with a range of discussions by leading affiliate and advertising experts from key Latin American regions. Panel sessions will encompass the most effective techniques affiliate sites can adopt to build brand loyalty and maximise conversions, new traffic acquisition strategies through mergers and acquisitions, solution social media can provide for operators looking to expand their audience, and much more!
Rasmus Sojmark, CEO & Founder of SBC, said: "The affiliate & advertising track is a gateway for delegates to discover groundbreaking strategies, connect with experts and ultimately stay ahead in the dynamic realm of advertising.
"By securing the region's most prolific experts in the affiliate and advertising domain, we will equip attendees with an educational experience that will actively shape their trajectory towards success in this burgeoning region."
Opening the track is 'Launching In LatAm – Fundamentals of Brand Identity' which will explore the best strategies to protect brand identity against misaligned content when launching in LatAm markets.
Robert Kraft (CEO, Atlas World Sports), Thomas Carvalhaes (Managing Director, Vai de Bob) and Luis Sangiovanni (Chief Marketing Officer, Fast Track), will explore how to achieve an authentic message across multiple channels, how to balance regionalism with brand identity and the formula of personalization.
'The Untapped Opportunity in Affiliation' will discuss the perception of affiliates in Latin America and how to strengthen the understanding and awareness of affiliates in the region.
Laura Gago (Head of Operations, BETANDEAL), and affiliate leaders Noelia Groisman (Affiliate Leader, Codere) and Adrian Tejeda (Affiliate Leader, Logrand Entertainment), will look into the disconnect between affiliates and the Latin American region, whether affiliation is being underestimated and how operators can leverage this opportunity to improve acquisition and retention.
Furthermore, 'Tech at The Centre: Understanding Customers to Maximize Retention and Acquisition' panel will explore how marketing technology can be used to better understand, retain and acquire players in developing markets.
Shlomi Haffner (Industry Manager, Google), Lali Odosashvili (Head of Marketing, Hybrid Interaction), Nancy Ayala (Vice President of Legal, Rush Street Interactive) and Jean-Luc Ferriere (Managing Director Americas, Fast Track), will discuss the marketing technology available, and how analytics, data and artificial intelligence can be utilised securely and efficiently to increase a brands player base.
Other conference tracks available to attendees include Leaders, Sports Betting Product, Emerging Markets & Technology, Sports Teams & Media and Payments & Compliance.

You can keep up-to-date with the latest news, speakers & exhibitor additions and conference content by subscribing to the bi-weekly Linkedin SBC Summit Latinoamérica newsletter. You can purchase your early bird ticket for the discounted price of $495 here.