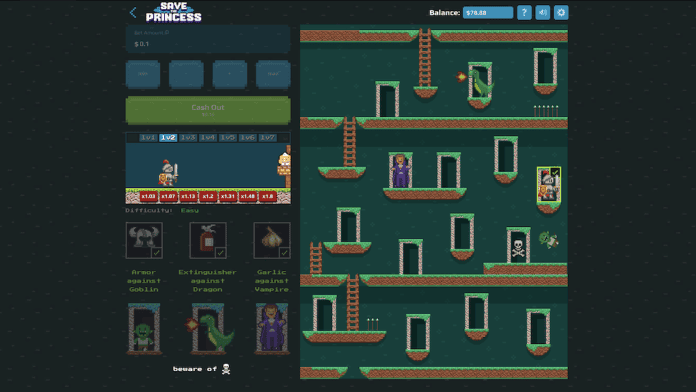 Turbo Games is bringing back 8-bit pixel art with its latest progressive igaming title, Save the Princess.
In this game, players control a brave knight in a quest to save a stolen princess. The hero must evade dinosaurs, goblins and vampires to save his fair maiden.
Slava Zhuk, Advisor at Turbo Games, explained: "We are excited about the release of Save the Princess because it differs much from all the previous games.
"We have been learning a lot from the time of Turbo Games' launch and now we put these insights into practice, bringing astonishing new experiences to our players all around the globe."
Seven progressive levels offer various ranges of multiplied bets, with players selecting a random door on the screen in hope that no enemies are behind it. Each level has different game designs from blue skies to fiery hellholes.
If death is behind any door that is selected then players will lose their stake, along with any gained winnings that were not cashed out.
There are four difficulty levels to the game, as the player can choose whether they want to take armour, garlic and fire extinguishers on their quest in protection against goblins, vampires and dinosaurs respectively.
Choosing a door that has an enemy behind it will cause players to die if they have no defences, taking them back to the first level with no payout.
Players can pick and choose which defences they would like before every game.Holding the defences will give players one life against each villain, but there is no protection against the skull and crossbones death symbol.
Selecting all three of these defences will cause the game to be in easy mode, offering between x1.03 and x1.8 the player's stake, depending on how far close they get to the princess.
If players only select two of the defences then the game can offer between x1.1 and x4.8 the player's stake, whereas choosing only one defence offers between x1.18 and x14.39 their bet.
Confident players will choose no weapons, causing the game to be in its extreme mode. Depending on how many doors the player guesses correctly, this difficulty mode can offer between x1.27 and x68.68 the player's stake.
Guessing correctly seven times will take the player to the princess and payout the highest offering for the specific difficulty mode chosen.
Players have the opportunity to cashout on every level in order to bank their winnings, as each round gets harder and harder with fewer doors to choose from. The first level starts with 17 doors whereas the final level finishes with only five doors.
If readers would like to test their luck with the Save the Princess demo, click here to be directed to the Turbo games website.