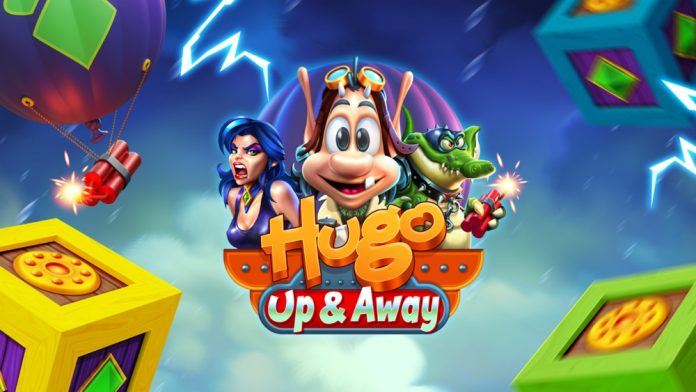 FunFair Games, in collaboration with IP-owner 5th Planet Games, has launched its multiplayer crash-game, Hugo: Up & Away.
Featuring the same mechanics as the company's title AstroBoomers: To the Moon, the new story-driven title sees the studio's troll Hugo navigate through perilous storms and thunderous clouds in a plane full of jewels, avoiding explosive TNT balloons.
"Hugo: Up & Away has the potential to be one of our most popular releases, with the Scandinavian franchise having gained a broad following thanks to a consistent flow of gaming and cinematic adaptations since the 90s," commented Mark McGinley, CEO of FunFair Games.
"We're delighted with the final product and have to thank 5th Planet Games for its support throughout the development process. We can't wait for players to enjoy this vibrant title that combines elements from the original game show and harmonises it with the thrilling crash game elements."
Within the game, a fulfilling multiplier increases the further Hugo travels, with a maximum win worth x2,500. However, should the protagonist be struck by lightning, the multiplier increase comes to an end. Players must decide the best time to parachute to safety in order to earn more rewards.
Players can place two bets each round and utilise the title's auto-eject features that help users receive bigger wins.
Hugo is a fictional character who was first introduced through a hit interactive live TV show that aired in the 90s and entertained people in more than 40 countries. The franchise also amassed a large following in the video-gaming space, bringing forward a range of computer, mobile and console games.
Mark Stanger, CEO of 5th Planet Games, added: "We are delighted to bring Hugo into a completely new and exciting vertical in the real money gaming space together with FunFair Games.
"With a crash scene being the focal point of the original TV show, we have found the perfect match in FunFair Games with their expertise in creating engaging crash-style content, and we couldn't be happier with the result.
"Hugo remains an extremely popular character in countries around the world and offering a modern twist of the original story was an opportunity we could not turn down; we look forward to introducing the game to fans old and new."
To play a demo version of Hugo: Up & Away, click here.