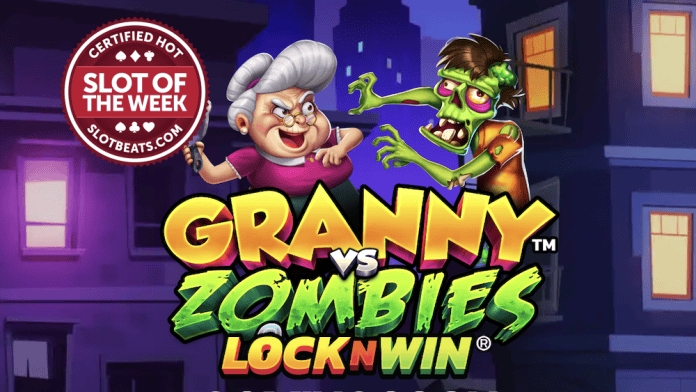 An unlikely battle between a pensioner and the undead takes place in PearFiction Studios' zombie-slaughtering slot release, Granny vs Zombies, which offered an abundance of spine-tingling features to claim our Slot of the Week award.
Using a 5×4 reel set, Granny vs Zombies has 20-paylines and offers players a chance to gain a maximum win of up to x5,000 the player's bet. The zombie apocalypse-themed release showcases spinning wheel, Lock n Win and free spins game modes while having medium-high volatility with an RTP of 96.32 per cent. 
Jeremy Coleman, Commercial Director at PeaFiction Studios, commented: "Granny Vs Zombies has got off to a great start following its global release. Players are enjoying this feature packed game and are enjoying how much fun we have brought into every aspect of the game.
"The choice of the different weapons in the freespins game is proving to be very popular. What will you choose – frying pan, rolling pin, butcher knife or molotov cocktail?"
Low value symbols come in the form of the high end of a deck of cards, from 10 through to Ace, while orange, blue, green and red zombies depict the high value symbols alongside a Granny character. All of these symbols can offer between x0.2 and x10 the player's stake.
Green Granny and zombie wilds can drop into play, substituting for all aforementioned paytable symbols but for no bonus symbols. When these wilds appear on the same spin, the Granny will attack the zombie wild, resulting in more wilds being placed on the board.
Yellow walking wilds are also available on reels three, four or five, appearing in 1×2, 1×3 or 1×4 sizes to cover more of the reel-set. These wilds will move one reel to the left with each spin until they have left the board.
Free spins text scatters are included on reels two, three and four, triggering one of four free spins game modes if three land on the same spin.
Additionally, bonus coins can land on the reels, triggering the Lock n Win feature if six or more coins appear on the reels.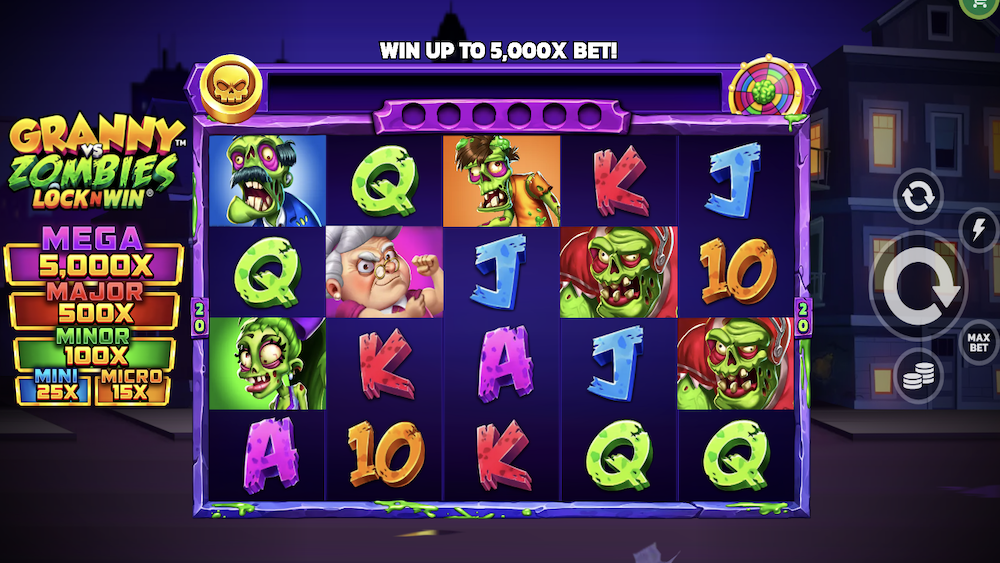 Coins come in the form of golden skulls, which display monetary values between x1 and x12 the player's stake, green key coins, pink multiplier coins and star jackpot coins. Any combination of six or more coins will trigger the feature.
When triggering the free spins feature, players have four game modes to choose from. Throughout each game mode, weapon symbols can drop into play, helping the Granny to defeat zombies that land on the reels. Defeating zombies adds points to a damage meter above the reels.
When filling this damage point meter, players will eventually unlock multipliers of x5, x10 or x20 to be applied to all wins achieved in the feature.
The free spins features are as follows:
A total of 10 spins with frying pan weapons that award one damage point
Eight spins in total with rolling pins that award two damage points
Seven spins with knives that give three points
Six spins and molotov cocktails that take four damage points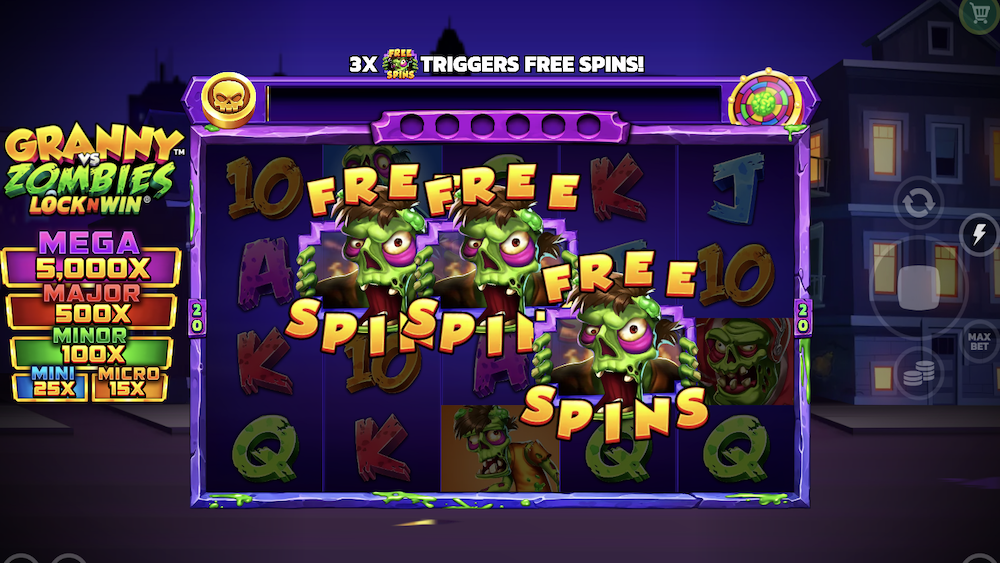 When each level is passed in the game mode, an additional number of spins will be awarded depending on which game mode the player has selected. Frying pan, rolling pin, knife and molotov cocktail game modes will provide an additional five, four, three or two spins for each level respectively.
When players have reached the second level, a golden zombie can drop into play, needing five points of damage to be destroyed.
In the Lock N Win game mode, players are awarded three spins to land as many coin symbols on the reels as possible. Each coin that drops in will reset the number of spins to three.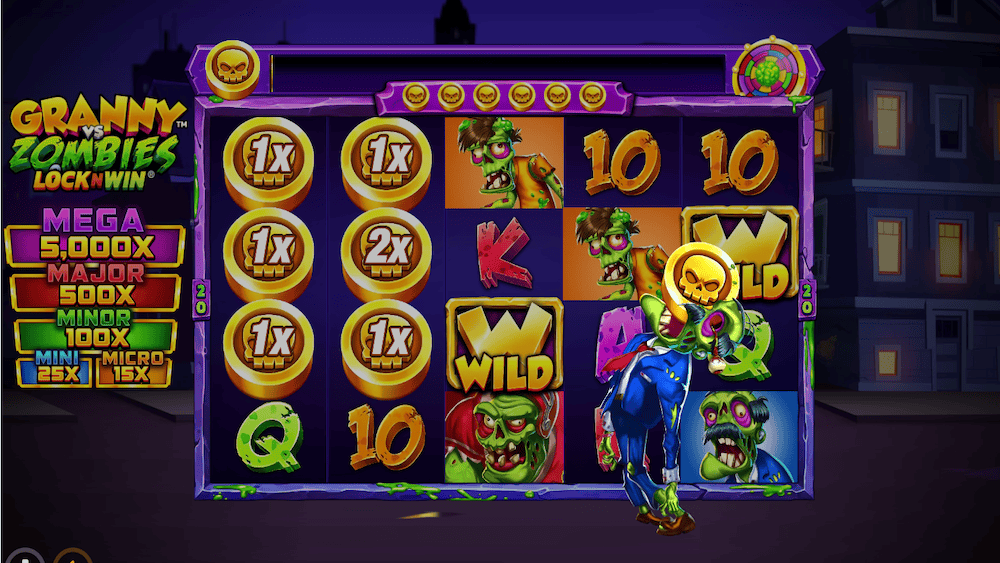 At the end of the feature when all spins have been played out, the player will receive the accumulated value of all golden coins on the board.
While the feature begins on a 5×4 reel set, green keys can drop into play to unlock an extra row for each reel. After doing so, these keys will provide a multiplied bet amount of their own. Pink multiplier coins can also appear, multiplying the values of each coin in play by up to x5.
If a golden star symbol drops into play, the jackpot Lock N Win game mode will be activated once the initial Lock N Win feature finishes. This takes players to an empty reel set where they will hope to land three jackpot stars in a row to win a jackpot prize.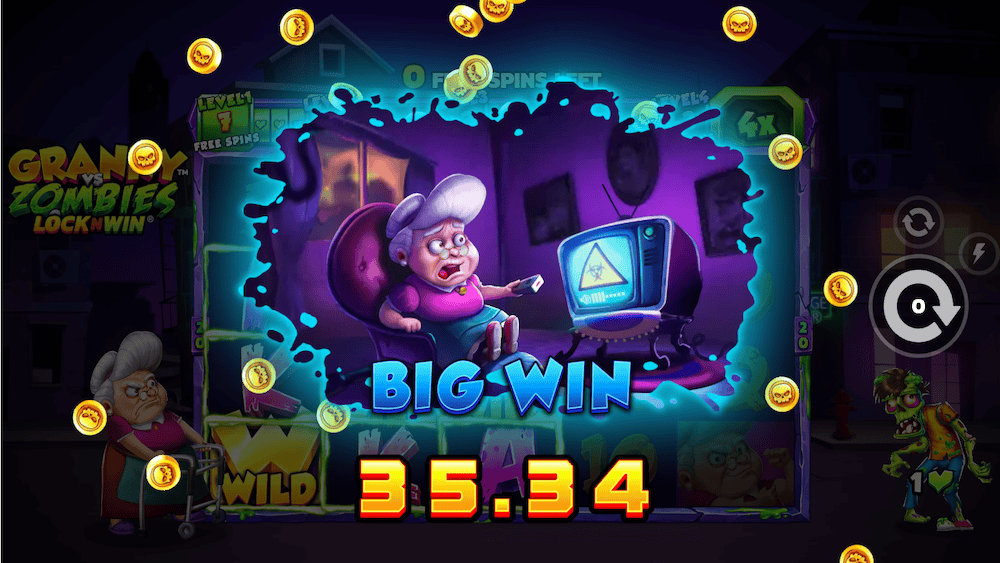 This jackpot Lock n Win game mode is also activated when the golden disco zombie is destroyed in the free spins feature.
Furthermore, collecting golden coins throughout the base game without triggering the Lock n Win feature will apply the coins to a jackpot wheel meter above the reels.
Once this meter is filled, players will be presented with a spinning wheel that can award one of five jackpot prizes from micro (x15) to mega (x5,000).
If readers would like to test their luck in Granny vs Zombies, they can click here to be directed to PearFiction Studios' official website.